Transit industry conferences have a reputation for being pretty dull. It was a gloomy truism among purchasing managers that no one ever got promoted selling mass transit as sexy. Even the brief go-go years of diesel hybrids and compressed natural gas (CNG) buses quickly peaked. Mechanically, they were better than straight diesel, but ultimately, in the big picture, meh — evolution not revolution.
Then this May transit started getting a lot of press heat: Proterra, America's original electric bus maker, unveiled a new battery for its Catalyst XR electric bus at the American Public Transportation Association Bus and Paratransit Conference (APTA). Suddenly, the future of American mass transit had completely changed.
A techno-regulatory convergence
Sensing that this new battery's jolt of extra energy was a killer app, Proterra CEO Ryan Popple confidently opined, "We're broadening the market for EV transit very quickly." But then — in a deliberate micro-aggression — he went for the kill, "Our goal is the complete replacement of fossil-fueled transit vehicles."
Incidentally, the EPA couldn't have been happier. In a moment of pure high-tech convergence, the federal agency had just finalized a new rule affecting every long-haul truck, bus, and garbage truck on the road, forcing them to be much more efficient.
Building on rules rolled out in 2011, according to its press release, the EPA is encouraging the development of new technologies through 2027. The agency expects its regulatory nudge to lower CO2 emissions by 1.1 billion metric tons, save about $170 billion in fuel costs, and reduce oil burn by two billion barrels over the lifetime of the vehicles sold during the program. Which brings us back to Proterra, because many of those cutting-edge vehicles will be electric buses.
The bus killer
Proterra, a Silicon Valley-based startup with dominant-market-share DNA, has had one focus all along: to take the diesel bus down. It's been working on that goal since 2004. Of course, the beginning was slow. The first three electric buses weren't sold until 2009, and then sales bumped along slowly for another several years.
Proterra got some traction in 2015 when it sold 62 buses to 12 different transit agencies. Unfortunately, they only had a nominal range of 146 miles, painfully short for many bus routes. Widespread adoption never materialized.
"The first generation we brought out wasn't good enough," Matt Horton, vice president of sales, confessed to Business Insider. "It just couldn't go the distance."
But that was before Proterra unveiled its new bus, which can literally go the distance, lugging passengers for 18 hours — the same as a standard diesel bus.
Three times the range
So what changed? After setting up a state-of-the-art battery lab in Silicon Valley and poaching world-class engineers from leading tech companies, all of this brain power designed and built the new Catalyst XR battery pack, which delivers new range while maintaining the new buses as the lightest vehicle in its class.
"By increasing the battery's energy density, the team was able to maintain its light weight," said Gary Horvat, CTO at Proterra. "The improved Catalyst XR marks another step toward Proterra's goal of providing a bus that can serve any transit route in the US." Or, in other words, nothing less than mass transit world domination.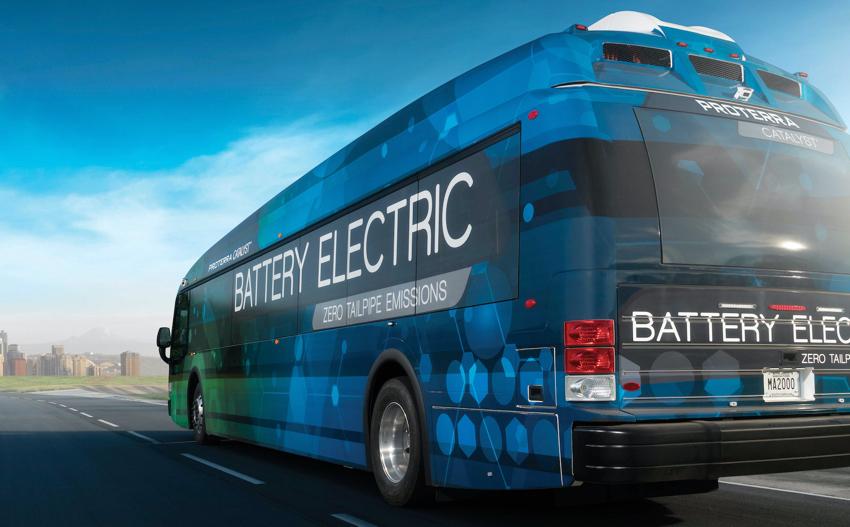 ---
Already rated the most efficient 40′ transit bus at 22 MPGe, it's nearly six times more efficient than a diesel or CNG bus. The Catalyst is also significantly more energy efficient per mile than the closest competitor's electric bus.
I'm too sexy for your car
The Catalyst E2 can be equipped with battery packs ranging from 440 kWh to 660 kWh without crowding old passenger space. On test tracks it's logged up to 600 miles on a single charge. That's more than three-times the Catalyst XR and long enough to cover nearly every route without stopping to recharge.
"We're showing that we can meet 100% of the demands for a no-compromise replacement for public transit systems," said Horton.
For Proterra, steady bus replacement rates make future sales as easy as shooting fish in a barrel.
There are 70,000 heavy duty buses on the road in the US, and about 5,000-6,000 of those buses are replaced every year. The Catalyst E2 is game changer for cities on the sidelines waiting for battery costs to drop to a range of 194-350 miles.
Diesel electric mismatch
Every Proterra salesman knows this fact: a diesel bus averages 4 MPG, but the new E2 offers an energy equivalence of 22 MPG, which will lower fuel costs while reducing greenhouse emissions. On top of that, it has fewer moving parts, which means fewer brake repairs and no oil changes. So in the big picture, cities can save $400,000 per vehicle over its lifetime in fuel and maintenance, according to the company.
"They also accelerate faster," says Horton, "Not as fast as a Tesla, but better than a diesel bus."
By 2022, 31% of new busses sold will be EVs, he adds, citing a Frost and Sullivan industry report.
The company's current challenge is scaling up. To reach this goal Proterra opened a new factory in California in addition to its original Greenville, SC location. Each can eventually produce up to 500 vehicles a year.
Sales for 2016 are already 220% higher than last year, and that's not counting new orders for the E2. "This is important because heavy duty transit will be the first market that goes 100% battery-electric," says Horton.
Proterra's bus will arrive in Foothill Transit in California in early 2017.
Horton said the startup has customers in 15 states across the country and that it's pre-sold over 300 buses to date. By the end of 2017, all of the buses will be fully operational.
"This is the first time that an electric vehicle has been brought to market that, on a truly no-compromise basis, is going to replace all the fossil fuel vehicles in its category," Horton said.
Will electric buses lure millenials out of their cars?
Images: Proterra Buses, Proterra