Grid 2.0 is hot. Which means battery storage is heating up too.
Just a month ago, French energy giant Total bought Saft, a battery builder and storage expert. Now US-based Green Charge Networks, a demand reduction pioneer, has been taken over by Engie, a French corporation considered the world's largest energy efficiency systems developer.
Saft builds its own batteries, but Green Charge buys the batteries it deploys to help businesses reduce grid price spikes and the resulting demand charges. Since Green Charge has begun slipping used EV batteries in the mix, this latest deal shows how much the EV sector has grown.
---
Little more than a couple of years ago, the supply of used batteries was considered too meager to support an alt-battery storage industry.
At the time, many retired units were simply recycled, scrapped or thrown out. But as EV fleets have grown, suddenly there's a disruptive storage market looming on the event horizon.
This trend became undeniable after Tesla — ground zero for early adopters — broke a reservation record for its $35,000 Model 3, largely because battery costs have dropped so much.
The expected deluge from Tesla and competing EV makers, along with over one million EV's already on the road, insures that — like baby boomers — a generation of batteries is starting to bulk retire.
The batteries' potential utility is obvious: the remaining capacity of a used Chevy Volt battery is "up to 80 percent," according to Pablo Valencia, GM's manager for Battery Life Cycle Management.
Cluster them together and they produce a win-win for utilities looking to avoid expensive grid build-outs and businesses ducking that same utility's rising demand charges.
So the major EV makers are all exploring ways to give those hardworking retirees a productive second life.
Breakthrough in Yellowstone
Toyota was first out of the gate, primarily because it was sitting on a pile of used nickel-metal hydride batteries after launching its hybrids in 1997.
Last year in Yellowstone National Park, clearly way ahead of the trend, Toyota turned on an off-grid solar system backed up by 85KWh of used battery storage. By supplying 40KW's around the clock, it replaced costly and polluting diesel generators (read the press release).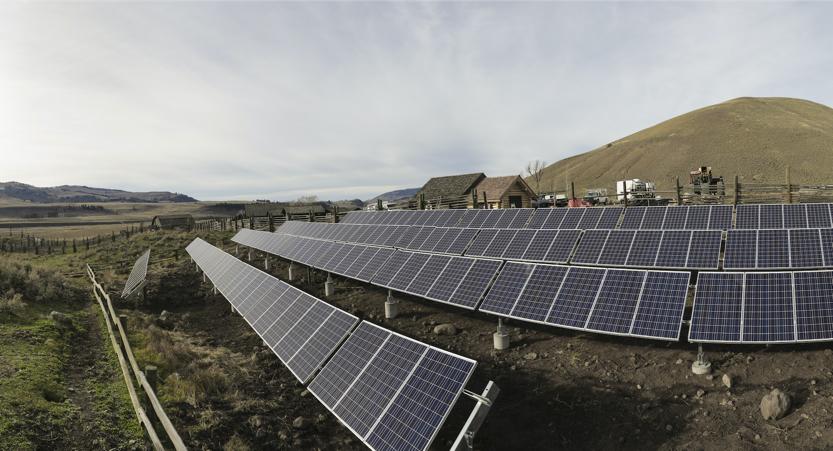 ---
The 208 repurposed battery packs power a busy environmental education and research campus during intermittent clouds, fog, rain, darkness and the occasional eclipse.
This wasn't the first time Toyota reused batteries for storage. The corporation became its own first customer when dealers in Japan started using them for backup power in 2013.
Powering a data center
GM dipped into its reserves of used Chevy Volt batteries for storage at its new Data Center in Milford, Michigan, where a solar array and two wind turbines feed five batteries that regulate the building's power supply (read the press release).
The batteries, working along with renewables, helped the building attain LEED Gold certification from the US Green Building Council — which will no doubt be highlighted on future sales brochures.
---
---
Storing 80KWh's of electricity, the battery array can keep the facility operating day and night.
Housed in a container designed to fit on a flatbed truck, once the system's commercialized, it can be used to provide emergency backup power or even event power.
Of course — and this is the big selling-point — used batteries are sold at a steep discount. "A business can derive full functionality while reducing upfront costs," explained GM's Valencia.
Jumping into second-life
By mid-2015, with 180,000 Nissan Leafs on the road and its own surplus of used batteries piling up, Nissan launched a business with Green Charge Networks (see video announcement).
At the time, Green Charge Networks was one of a handful of startups using battery systems to help businesses reduce grid energy consumption. UPS, 7-Eleven, and Walgreens were the first companies to try the service.
Later, ChargePoint, the world's largest EV charging network, started using Green Charge to eliminate expensive demand spikes during EV power-ups. The extra costs were deterring potential customers (see video).
---
Green Charge helped each company reduce demand charges, which are based on the highest 15 minutes of usage each month and can add up to nearly half of a customer's costs in states like California and New York.
Green Charge installs its batteries for free and makes money by taking a cut of the savings. Because CEO Vic Shao knew that, "a big chunk of the cost of storage is battery technology," he was looking for a way to trim his own costs.
Since used and new batteries perform similarly for demand response, Shao figured he'd give Nissan's used batteries a try.
To sweeten the deal, Nissan gave Shao a ten-year warranty. As Shao explained, "That allows us to commercialize…[and] get financing for our systems."
Green Charge has built a storage portfolio in California serving the state's new demand response program, and the lower costs of second-lifers have opened up new markets where incentive programs don't exist. Already, the company has about 48 MWhs of storage either working or under construction.
Just months before the Engie hookup, Duke Energy Renewables started working with Green Charge to install battery systems in Hawaii and Southern California.
Flooding the zone
Why Hawaii? The state had just replaced its net metering with rules offering less money for solar fed back to the grid. This immediately boosted interest in behind-the-meter systems.
Since Green Charge's business is turning into a slam dunk, and fleets of EV's are going to be roaming the roads soon, a mountain of low-cost used batteries will be available by the middle of the next decade.
When the early trickle of second-life batteries finally turns into a flood, electricity storage and demand response — both enabling higher penetration of renewable power — will never be the same.
Do used batteries and EV's make up a virtuous circle?
Images: Solar panels and batteries, Toyota; GM's container, GM; Green Charge units, Green Charge