Several months ago, Nissan posted a new promo on Youtube, featuring a city powered by an armada of plug-in Leaf's fiber-optically connected to a network of smart homes, streets, and offices. Nissan labeled this utopian scenario the "fuel station of the future." Of course, gas stations had completely vanished. Zip.
I'm sure it unsettled any oil executive with the nerve to screen the whole video. It upset me too, unable to imagine this happening anytime soon in the real world.
Wrong. The transition's already begun, and energy is literally becoming a two-way street.
Trading through the grid
Building on several successful, small trials, Nissan and multinational power company Enel will soon begin the UK's first major vehicle-to-grid (V2G) project.
After installing 100 V2G two-way chargers, which allow electricity to be traded through the national grid, LEAF owners will feed on cheap power at night; the next day, when costs are higher, they can either use it or sell it back to make extra money.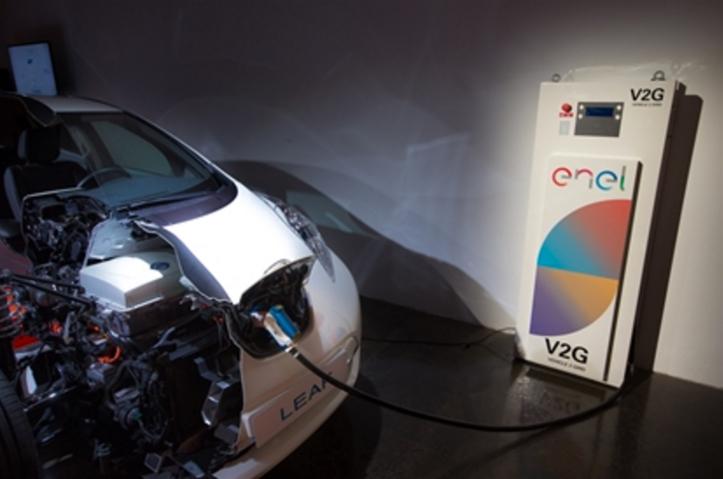 ---
"We believe electric vehicles can become a mobile power unit," Nissan's chairman for Europe Paul Willcox told Bloomberg. "Customers can save money on their energy bills." (Read the press release.)
If the program is a success, it will be rolled out commercially. "In this way," Wilcox said, "electric vehicles will become a fully integrated part of the national electric grid."
Storage technology could help save UK consumers as much as 2.4 billion pounds a year by 2030, according to a report funded by EON AG and Scottish Power.
In a best-case hypothetical, if all 18,000 Nissan electric vehicles in the UK were connected to the grid, they would make up a virtual 180 MW power plant. In the future, if that was scaled up where all the vehicles on UK roads are electric, vehicle-to-grid technology could generate up to 370 GW. This could power the UK, Germany, and France.
BMW's success
Other EV makers have already jumped into the V2G space.
Since California is ground zero for America's growing EV fleet and many are swarming San Francisco, BMW invited 100 Bay Area i3 owners to participate in a demand-reduction trial. They've allowed the car maker to remotely manage home charging by reacting to signals from PG&E, the regional utility.
---
The program allows PG&E to call on 100 kilowatts of demand from BMW, which responds using the 100 BMW i3's, backed up by used BMW Mini E batteries to ensure adequate and reliable demand response.
During a demand response request, PG&E sends BMW an alert when there's a shortage of electricity on the grid. To reduce the load, BMW then signals the vehicles to stop charging.
If the vehicles aren't able to respond because they're not plugged in, a backup battery system, located at BMW's Mountain View office, kicks in to pick up the load.
Since July, PG&E has sent BMW 26 demand-response events, and BMW delivered on all of them. Depending on the time of day, the vehicles met between 10 percent and 75 percent of the capacity needed. In every case, the system also used its second-life batteries.
"The system is performing very strongly," said David Almeida, PG&E's program manager of electrification and EVs.
Reliable remuneration is part of the current setup. PG&E pays BMW for its demand-response services, and then automaker credits the customer. Participants should make $540 during the 18-month trial. So in the future, demand response programs could help EV owners recoup the lithium-premium they paid for their EV's.
"We want to make EVs more affordable — that's the mission," said Simon Ellgas, BMW America's senior advanced technology engineer.
Home charging
Used or second-life batteries have found another home at Nissan.
Following in Tesla's footsteps, Nissan also unveiled its new xStorage home storage system for the UK, which allows customers to control how and when they use energy.
What makes the Nissan product special are its 12 former Nissan EV battery modules getting a 'second life' now that they lack sufficient oomph for EV propulsion.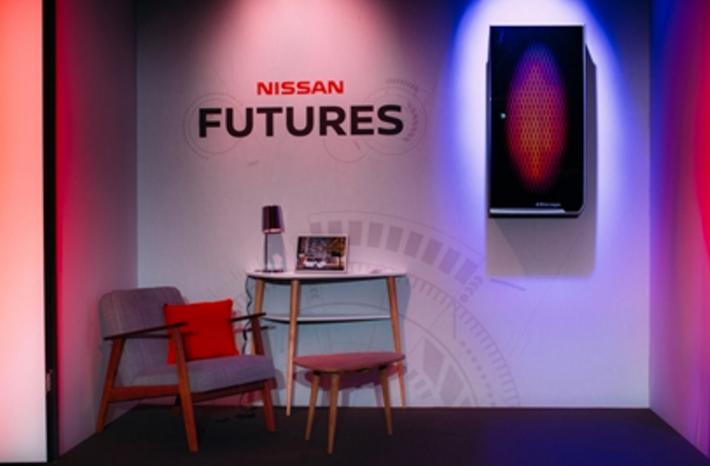 ---
Developed with Eaton, a power management company, the new xStorage system can be connected to a utility power supply or home solar panels. (Read the press release.)
The system is designed to charge when rooftop solar is available or when grid energy is cheap. Later, it can load shift and power the house when energy costs are higher. It will also allow owners to sell any excess energy back to the grid.
The xStorage battery connects to a smartphone app so it can switch between sources.
It will be available in September for about US$ 4,600, including converters and installation.
Nissan is expecting to sell 100,000 systems within the next 5 years.
Now imagine what a flood of hundreds of thousands — and maybe millions — of current and second-life batteries into the electricity storage market will mean.
Is this the grid storage we've been waiting for?