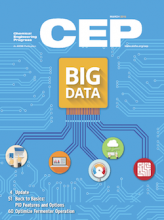 ---
SPECIAL SECTION: BIG DATA ANALYTICS
Big Data: The Four Vs
Big Data: What Is It?
Big data can pave the way to greater business and operational insight. New approaches and technologies are poised to help you navigate your journey.
Big Data: Success Stories in the Process Industries
Big data holds much potential for optimizing and improving processes. See how it has already been used in a range of industries, from pharmaceuticals to pulp and paper.
Big Data: Getting Started on the Journey
This article discusses some experiences and challenges in establishing an enterprise manufacturing intelligence (EMI) platform at a major chemical manufacturing company, and recommends steps you can take to convince your management to harness big data.
Big Data: Challenges and Future Research Directions
The big data movement is creating opportunities for the chemical process industries to improve their operations. Challenges, however, lie ahead.
BACK TO BASICS
PID Explained for Process Engineers: Part 3 – Features and Options
Understand the common features and options that are often incorporated into digital implementations of the PID block.
REACTIONS AND SEPARATIONS
Optimize Aerobic Fermenter Operation
Fermenter optimization involves determining a profile of agitator and compressor speeds that satisfy the required oxygen transfer rates. Optimization minimizes power consumption, which will save you money.
Update
Hybrid Polymer Reversibly Assembles and Disassembles
CRISPR Edits Genes to Treat Liver Disease in Mice
Simplifying Solar Cells with a New Mix of Materials
Shape-Changing Polymer Morphs with the Touch of a Finger
Shrink-Wrap Pressure Sensor Works Even When Bent
Nanoparticles Shape-Shift to Deliver Chemotherapy


Plus
AIChE Journal Highlight: Solving Global Challenges with Multiscale Systems Engineering
Technical Entity Trends: When Resources are FEW
Leadership Q&A: Transforming a Business
Catalyzing Commercialization: Nanofibers Produce Mega Impact for High-Efficiency Separations
Process Safety Beacon: Safety Devices Used as Control Devices
Patent Update: When Does Patent Infringement Become a Federal Offense?
Young Professionals Point of View: What to Ask During an Interview — and What Questions to Avoid
Expo Preview: Interphex
Product Focus: Flowmeters
Books
Calendars
Institute News

Council for Chemical Research Reorganizes Under AIChE
Kramvis Is AIChE Government and Industry Leaders Award Lecturer
AIChE Expands Inclusiveness Initiatives with "Safe Zone" Session
International Society for Water Solutions Announces New Leaders
Your AIChE Membership: Technical Divisions, Forums, and Technological Communities
Member News
The March 2016 issue of CEP is now available online. AIChE members receive access to CEP, including a searchable archive of issues dating back to 2001, online at http://www.aiche.org/cep.