Last year the world began to decisively shift away from using coal to produce electricity. This reached a symbolic climax last week when Scotland shut down its last coal-fired power plant, the huge 2,400 mega watt Longannet power station, after almost half a century of service.
"Coal has long been the dominant force in Scotland's electricity generation fleet, but the closure signals the end of an era," Hugh Finlay, generation director at Scottish Power, told The Guardian.
Even though Scotland once had half a dozen coal-fired power plants, it now relies primarily on natural gas and wind farms for electricity, which is part of a long-term plan to create enough renewable energy to supply 100 percent of its electricity needs by 2020.
Shifting massive investments to onshore and offshore wind has already moved the country halfway to its goal, with output doubling since 2007. In fact, the 539-megawatt Whitelee Windfarm, which is near Glasgow and generates enough electricity to power just under 300,000 homes, is the largest wind facility in the UK.
---
To stay on-trend for 2020, six new onshore windfarms are currently under construction.
Longannet's retirement began two years ago when Scottish Power announced that the plant was too expensive to run, crippled by old age, rising transmission costs, and higher carbon taxes.
Thrown under the bus
Former allies have also turned against coal by trying to grab the fuel's market share. Last spring, after watching European governments shun coal for a decade, EU oil majors started promoting natural gas over coal as the baseload backstop for intermittent renewables like wind and solar.
Shell, Total, BP and other EU companies said in a highly publicized statement that gas was more climate friendly than coal, releasing half the CO2 emissions of coal-fired plants, along with lower levels of dangerous air pollution.
This fracture in the fossil fuel industry was starkly different from the the days of the 1997 Kyoto Protocol, when both industries worked together against emissions limits, said Jake Schmidt, a climate policy expert at the Natural Resources Defense Council.
Changing a decades-old business model, Shell began producing more gas than oil by 2013. Total followed in 2014. And last year Shell agreed to pay $70 billion to buy BG Group Plc, primarily a gas exploration and trading company.
Shell CEO Ben Van Beurden left no doubt about Shell's strategy when he said that his company had changed from "an oil-and-gas company to a gas-and-oil company."
"Total is gas, and gas is good," CEO Patrick Pouyanne later said, Bloomberg reported.
A key strategy for the gas producers became asking governments to levy a price on carbon emissions from power plants and creating an incentive to switch from coal.
BP CEO Bob Dudley called for a carbon price at the company's shareholder meeting last April. In May, although Exxon isn't officially aligned with the EU oil majors, CEO Rex Tillerson said he supported a carbon tax if consensus emerges in the U.S.
Coal finally cracks
Like Scotland, in the United States coal fueled the Industrial Revolution during the 19th century and into 20th century, and it helped drive Wall Street's profits for generations. More than a century later, coal is on life support as banks pull away.
Major coal companies have gone bankrupt as the price for coal fell by 60% since 2011. When Arch Coal, the second biggest coal miner in the US, filed for bankruptcy in January, investment bank Goldman Sachs declared the the world's former go-to fuel had reached "retirement age."
Then a month and a half later, Peabody Energy, the world's largest private-sector coal company, sealed the deal, saying that it may have to file for Chapter 11.
While there are a number of reasons behind coal's demise in the US, with environmentalists highlighting the role of renewables, the biggest push came from cheap natural gas.
This week the US Energy Information Administration (EIA) said that between 2014 and 2015, the amount of power generated from coal in the US fell by 226,000 gigawatt-hours. At the same time, the amount of power produced from natural gas increased by 208,000 GWh. Renewables, on the other hand, contributed only a 10,000 GWh increase.
As stockpiles of coal have grown to historically high levels, the EIA is now forecasting that 2016 will be the first year that natural gas-fired generation exceeds coal in the US.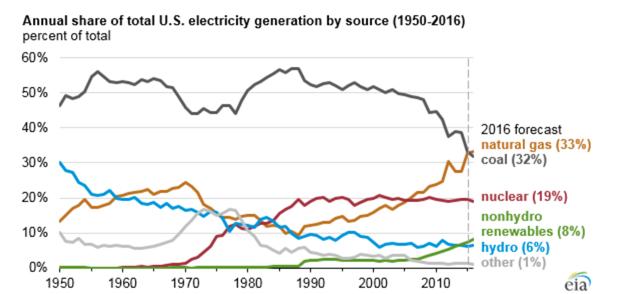 ---
Piling on
The final shoe has dropped in the financial markets.
Last June, Norway's $890 billion sovereign wealth fund — created from Statoil's profits — began the process of selling off billions of dollars of its coal-related investments in companies that rely at least 30 percent on coal.
A spokeswoman for Norges Bank Investment Management, which manages the fund, said the goal was "safeguarding and building financial wealth for future generations."
Norway's decision to drop stocks of companies that burn a significant amount of coal obviously sends a strong message to companies thinking about building new coal-fired power plants, which now carry increasing financial risk for a 30-year investment.
The New York Times reported that three weeks ago JPMorgan Chase announced that it would no longer finance new coal-fired power plants in the US or other wealthy nations. The retreat follows announcements by Bank of America, Citigroup, and Morgan Stanley that they are backing away from coal.
Peabody Energy, struggling to say afloat, has been trying to sell three of its mines to raise cash, but so far they've come up empty.
Meanwhile Peabody's stock has plummeted to less than $3 a share, from more than $95 a year ago.
A recent report from the consulting firm the Rhodium Group revealed that the four largest American coal miners by output—Peabody Energy, Arch Coal, Cloud Peak Energy and Alpha Natural Resources—which produce nearly half of US production, were worth a combined $34 billion in 2011.
But today they're worth only $150 million.
With China slowing down, will coal keep crashing?
Images: coal and gas graph, EIA; coal mine, Greg Goebel; coal mine, Peabody Coal; Whitelee windfarm, bjmullan