After limping away from the wars in Iraq and Afghanistan, where fuel convoys became constant targets for insurgent IEDs, the US military wanted to sever the deadly connection between fossil fuels and military vulnerability, ending the long, global supply chains often originating in countries best described as frenemies.
The US military ranks as one of the world's largest consumers of energy and burns an estimated 14 million gallons of fuel a day. To reduce the figure, of which the Navy accounts for nearly one-quarter, President Obama tasked Secretary of the Navy Ray Mabus to jump start a domestic advanced biofuel industry by partnering with the private sector.
This was a challenge because the Navy couldn't use the same corn ethanol or biodiesel powering civilian cars and trucks. Military imperatives required newer, third-generation "drop-in" replacements for global fleets of ship and jets — fuels still in very short supply.
The procumbent rules stipulated that the new biofuels must utilize existing transportation and distribution infrastructure and require no modifications to existing ships or planes. Moreover, they had to be cost-competitive.
After the Navy satisfied those non-negotiable demands, last week Mabus kicked off the deployment of the Great Green Fleet during a ceremony at the Naval Air Station in San Diego, California, showcasing a drop-in biofuel made from waste beef fat (see the Navy press release).
Mabus crowed, "I made energy a priority because of how much it impacts our combat capability and because of the cost it imposes on us." The former Mississippi governor, who was appointed Secretary of the Navy in 2009, had set an aggressive goal early in his tenure that the Navy and Marine Corps would obtain at least 50 percent of their energy from alternative sources by 2020.
He added that the program was quickly growing, "In the seven years following 2009, we will have contracted 84 ships, making our emphasis on alternative fuels and more fuel efficient systems more critical and integral for our fleet."
California-based AltAir Fuels provided the fuel made from Midwestern beef tallow, which was then blended with traditional petroleum from Tesoro. Eventually the Navy will buy 77.6 million gallons of the blend for $2.05 a gallon, making it competitive with traditional fossil fuel, even during the oil crash.
AltAir's specialized fuel also meets the exacting F-76 marine diesel specification, making it more complex than conventional diesel because of the at-sea requirement for fuels with a higher flash point. (See excerpts from Mabus' speech.)
Early high prices
Just four years ago, early biofuels purchased for the first demonstration of the Great Green Fleet during the 2012 RIMPAC maneuvers cost about $26 a gallon and generated a lot of heat from Congress. But Mabus noted that biofuel prices had dropped remarkably.
"We paid $26 a gallon then. We're paying 13 times less today, just three and a half years later. That's the story, that's the success," he emphasized last week.
Once the guided missile destroyer USS Stockdale cast off from port, it became the first US Navy ship running on an alternative fuel blend as part of its regular operations. It ushered in what the Navy calls the "New Normal."
Overall, the latest incarnation of the 2016 Great Green Fleet will last one year and deploy ships using a variety of energy conservation measures, including stern flaps, LED lights and energy dashboards that monitor real-time fuel consumption and performance.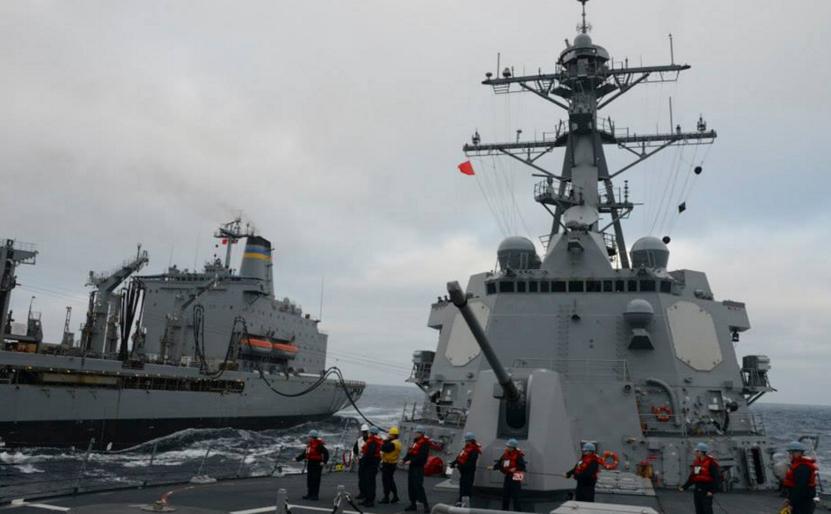 After the ceremony, Mabus flew out to see a destroyer replenish its fuel tanks from fleet bio-oiler USNS Guadalupe. During the year, the rest of the Great Green Fleet will receive fuel from the combat support ship USNS Rainier, which will take on over 3 million gallons of the alternative fuel blend before joining the fleet on the high seas.
Boosting private industry
By launching the Great Green Fleet, the Navy joins companies like United Airlines, Alaska Airlines, Cathy Pacific, Southwest Airlines, UPS, FedEx and Disney in adopting alternative fuels and incorporating them into their supply chain.
While AltAir was processing the biofuel for the Great Green Fleet, it also began regularly scheduled deliveries of biojet fuel to United Airlines flights at LAX last year.
In 2013, after the two companies announced the 15 million gallon deal, AltAir Fuels retrofitted idled portions of a Los Angeles petroleum refinery to cost-effectively produce the jet biofuel.
During the current trial period, United will purchase up to 15 million gallons of biofuel from AltAir over three-years, with the option to purchase more.
For both United and the US Navy, AltAir's fuel achieves a 50 percent reduction in carbon dioxide emissions on a life cycle basis when compared to traditional jet fuel.
Funding new builds
To kickstart an entire alternative drop-in fuels industry, in 2014 the DOD awarded $210 million under the Defense Production Act to Emerald Biofuels, Fulcrum BioEnergy and Red Rock Bio towards the construction of biorefineries that produce cost-competitive, drop-in military biofuels.
Under the new contracts, Fulcrum BioEnergy, based in northern Nevada, will eventually produce 10 MMgy of biofuel through use of Municipal Solid Waste. Red Rock Biofuels in Oregon will use woody biomass to create 12 MMgy of advanced biofuels, and, using waste fats, Emerald Biofuels will produce 82 MMgy at a Gulf Coast refinery.
These projects still have yet to be completely financed and constructed. But once up and running, they're expected to produce more than 100 million gallons of military-grade fuel beginning in 2017.
Among the three companies, Fulcrum appears is the closest to construction. Last May it finalized a fixed-price engineering, procurement, and construction contract with Abengoa, and expects to begin construction during the fourth quarter of this year. Although the schedule may have been complicated by Abengoa's pending reorganization.
Fuldrum says that funds are in place to begin construction and that the company is finalizing the loan under $105 million loan guarantee with the USDA, at which point the federal funds will be available.
An August 2015 DOE project update indicated that the young industry is gaining momentum. FedEx and Southwest Airlines have agreed to buy fuel from Red Rock, and United and Cathay Pacific Airlines have already invested in Fulcrum. All of these developments are important because they attract more investors to a still-risky investment.
Has the government started to build a robust biofuel ecosystem?
Images: USS Stockdale, Facebook