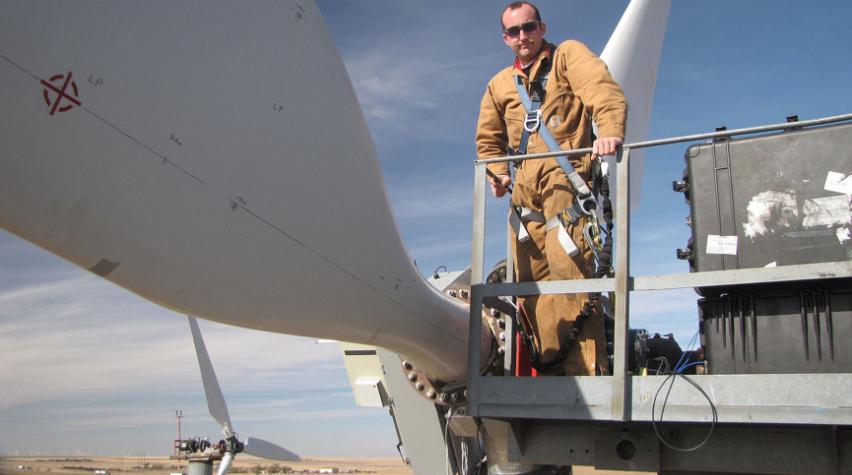 Hewlett Packard recently signed a long-term power purchase agreement (PPA) for a Texas wind-farm developer to supply 112 megawatts of renewable energy to the company's state-wide data centers, which, it turns out, is very bad long-term news for power fueled by coal and natural gas.
That very bad news arrived in a new report from Bloomberg New Energy Finance, which shows that there has been a big shift between renewable energy and fossil fuels in the US. After analyzing thousands of recent deals and projects, BNEF realized that costs for onshore wind and photovoltaics dropped, while costs went up for gas and coal-fired plants (see the press release).
The numbers show that the average levelized cost of electricity, or LCOE, for onshore wind nudged down from $85mwh in the first half of the year, to $83 in the second, while solar PV fell from $129 to $122. During the same period, coal power jumped from $66 MWh to $75, and combined-cycle gas turbines levitated from $76 to $82.
BNEF's explanation is simple: deals like HP's are part of a growing corporate trend that accompanies accelerating utility and residential installations.
A disruptive force
For the first time, widespread adoption of renewables in the US is lowering the capacity factor for fossil fuels. That's because once a solar or wind project is built, the marginal cost of the electricity it produces is pretty much zero — or free — while coal and gas plants require more fuel for every new watt produced.
Choosing renewables has become a self-reinforcing cycle — also called a virtuous circle. As more renewables are installed on the grid, coal and natural gas plants are used less. As coal and gas are used less, the cost to generate electricity goes up. As the cost of coal and gas power rises, more renewables will be installed instead.
So even though wind and solar are still a small fraction of the US electricity market (about 5%), production has been rising at an exponential rate. Now they're big enough to influence when coal and natural gas plants are kept running, reported Bloomberg. Renewable energy is now a disruptive force, making it impossible to dismiss like, unlike just a few years ago.
Rushing to renewables
This was HP's first utility-scale renewable energy purchase. By itself this deal wasn't particularly noteworthy, but it follows a rush of similar corporate agreements in Texas and around the country.
In February, Kaiser Permanente signed a 20-year contract to buy 153 megawatts of wind and solar power from two California farms. A month later, Dow Chemical said that it would buy 200 megawatts of wind power in Texas for its large Freeport complex. Right before HP's announcement, Amazon Web Services contracted Iberdrola to build a wind farm in North Carolina.
Essentially, five years of rapidly falling prices allowed corporations to start pulling the trigger. This trend has grown so quickly that 25 percent of the PPA's for wind signed in 2014, according to the New York Times, were with "nonutility customers."
"Renewables are really becoming cost-competitive with fossil fuels," said BNEF analyst Luke Mills. "We're seeing the utilization rate of fossil fuels wear away."
No-brainer
More and more executives rest assured that locked-in renewables eliminate the price volatility that afflicts oil and gas. Now there's a risk when power companies want to invest in coal or natural-gas plants. Historically, a high coal and gas capacity factor had been the norm, but as the capacity factor drops, you can bet that billion-dollar power plant will be used less than on its first day of operation.
So if you're a power company looking for a new plant with a decades-long lifespan, the choice is becoming a no-brainer.
Complex obstacles
There's still one road block before PPA's really take off. Negotiating the length of a PPA is a complex process and can frequently last up to a year before both parties are happy with the terms.
Typically, developers want long, 25 year deals, and corporations like HP want something much shorter.
HP negotiated for the better part of a year before it signed a 12-year PPA. Unfortunately, most companies are just beginning to develop the expertise needed — often at the CEO level — to handle these complex contracts.
Negotiation-free
That problem now has a solution. A growing number of companies are converting to renewable energy without investing in long-term PPA's.
Intuit, a large financial software developer, found a way to completely avoid the headache of protracted PPA negations. It hired Renewable Power Direct, a Washington-based wholesale green energy marketer, to help move its 500 employee Dallas-area campus to wind power through an offsite renewable energy agreement (see the press release).
RPD tailors its power contracts to cover varying size loads (typically from 3 to 25 MW) and provides flexible terms ( generally from 3 to 10 years). That's a win-win for most clients.
It can offer shorter terms and smaller volumes by sourcing power from a mix of existing and new facilities that are not fully subscribed. RPD still helps finance renewable projects but they don't require the end user, in this case Intuit, to foot the whole bill for each project. The costs are spread over several off-takers.
For Intuit, RFD first sourced the electricity with an existing Texas wind farm, and then had a retail partner, XOOM Energy, deliver it.
"Intuit shows that companies can now get the renewable power they want without having to buy into a whole wind farm or solar park," said Phil Minick, RPD's director of marketing."
RFD's approach has multiple benefits. First of all, buyers can quickly switch from grid power to green power without waiting for a new facility to come online or having to contract for a project's full output.
Since Texas is a deregulated energy market, after a simple switchover on Oct. 1, Intuit's campus is 100 percent wind-powered. It's CEO knows that as wind power becomes more efficient and less expensive, his company's costs should drop.
Will this tipping point upend utility business models?
Image: wind turbine, Energy.Gov