Europe has already built a thriving offshore wind industry, so it's an understatement to say that the US has a lot of catching up to do. Nonetheless, after seven years of painstaking preparation, offshore wind finally became a reality in the United States when developer Deepwater Wind got its first "steel in the water" last week at their Block Island Wind Farm just 13 miles off the coast of Rhode Island.
With the first foundation of the nation's first offshore wind farm standing in the water behind her, Sally Jewell, the US Interior Secretary, said the project points the way toward a clean energy future for the country.
She meant that, in addition to jump-starting a national industry, "Block Island, which today can only burn diesel fuel to create electricity, (in the future) will have clean, renewable energy." She proclaimed this while standing on a ferry as it rocked in the swells off the island.
So even though the turbines' nacelles and blades won't be installed until next summer by Norwegian firm Fred. Olsen Windcarrier's jack-up vessel (according to the project's logistics plan), Deepwater Wind made this all possible by cobbling together a global supply chain in just a few years (see press release).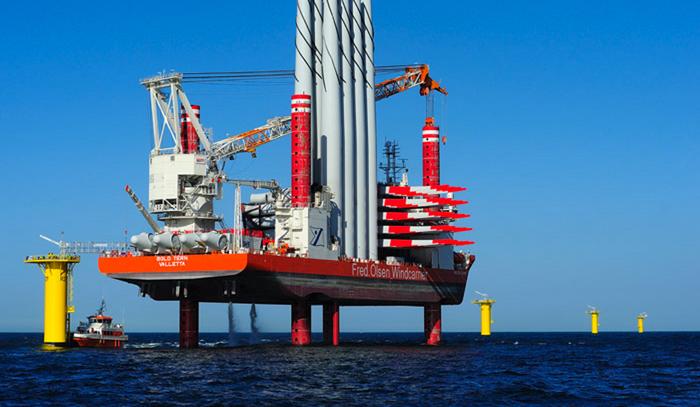 ---
If all goes well, the 30-megawatt project will start sending electricity to both island and mainland power grids several months later, powering 17,000 homes, and on Block Island, its 1,000 year-round residents will finally kick an expensive diesel fuel habit.
Jump-starting an industry
Globally, offshore wind is a proven technology, with over 6,000 MW installed worldwide, so there's an upside to getting a late start. But before Deepwater could do anything, it had to run through a bureaucratic gauntlet.
Rhode Island born CEO Jeffrey Grybowski is one of the company's few locals. He was originally hired in 2010 to coordinate public-policy strategy after serving as Gov. Donald Carcieri's chief of staff. His early career in corporate law and his contacts in state government were invaluable as he laid the complex and new legal framework for the project.
The location and source of Deepwater's new energy required him to obtain 26 different permits from nearly a dozen government agencies. In many cases, entirely new regulations had to be created from scratch. So it was critical to have a partner in government to finish such a complex task.
Using Europe's deep bench
Aside from permitting, the most challenging part of the project was assembling a seasoned supply chain, Grybowski says. "We don't have a supply chain for offshore wind in this part of the world." Inevitably, European companies needed to play a large role.
Since overseeing the construction phase for the Wind Farm required years of experience in the offshore wind industry, Deepwater's headhunters scoured Europe until they found Chris van Beek, who was formerly COO of Heerema Marine Contractors in the Netherlands, one of the world's largest offshore construction companies. During his 25-year career, he oversaw all aspects of offshore marine construction.
After van Beek became Deepwater's president, Jens Hansen, who had supervised the installation of more than 400 offshore wind turbines in Europe, was convinced to come on board as the company's project director.
Capitalizing on Louisiana's offshore oil expertise
With fifty years of combined offshore wind experience now joining Grybowski at the helm, it was time to find a contractor to build the foundations for the turbines and towers.
Those steel foundations now going into the water arrived after a long barge trip from Louisiana. That was necessary because, in 2014, when Deepwater started looking for a company to build the huge steel structures, it focused on a few companies along the Gulf of Mexico, home to the nation's offshore oil and gas industry.
Deepwater found the experience it was looking for in Houma, a small Louisiana city, where Gulf Island Fabrication had built some of the largest offshore platforms in the world. But the truth is that Gulf Island and Deepwater needed each other.
Kirk Meche, Gulf Island's CEO, grew interested in offshore wind five years ago after getting a proposal to build a project in the waters off Texas. By the time that project was abandoned, Meche had already started doing offshore wind conferences to pitch his company to developers, including Deepwater.
"We called it chasing the wind," Meche told the Providence Journal. "Oil and gas is a rollercoaster. A couple years it's good. A couple years it's bad."
He wanted to diversify business, and since the company makes all sizes of platforms, offshore wind is just another sector that can smooth out the yearly ups and downs.
The order from Deepwater came at a perfect time for Gulf Island. Times have been tough in the oil business. Many projects have been put on hold. Deepwater's six 840-ton foundations made up a healthy chunk of Gulf Island's business this year.
GPS precision
Long before the foundations arrived, Van Beek and Hanson had already found the brawn to delicately place them on the ocean floor: the 300-foot-long Weeks 533, which is the largest water-borne revolving crane on the East Coast. While cranes this large are part of Europe's established wind fleet, they're comparatively rare in the US.
So it's no surprise that the Meeks 533 has been around for decades. In the 1960s and '70s, the floating crane was used to build bridges in California and Oregon, and in the 2000s, after being moved cross-country and repurposed, it famously retrieved the US Airways plane that crash-landed on the Hudson River off Manhattan.
Workers with New Jersey-based Weeks Marine will use the 500-ton capacity crane and its 210-foot boom to carefully pick up the each foundation and lower it into place with GPS precision.
Another European advantage
A project seven years in the making that includes imported jack-up rigs, five 6MW Alstom turbines and towers from France, and underwater cables from South Korea, is huge and comes with a price-tag to match — about $225 million, just to build the wind farm itself. And then add an initial $118 million in permitting, legal, insurance, and other soft costs from equity investors. Plus a final $108 million to pay for an underwater cable connecting Block Island to the mainland power grid. All of these ratchet up the total cost to $451 million.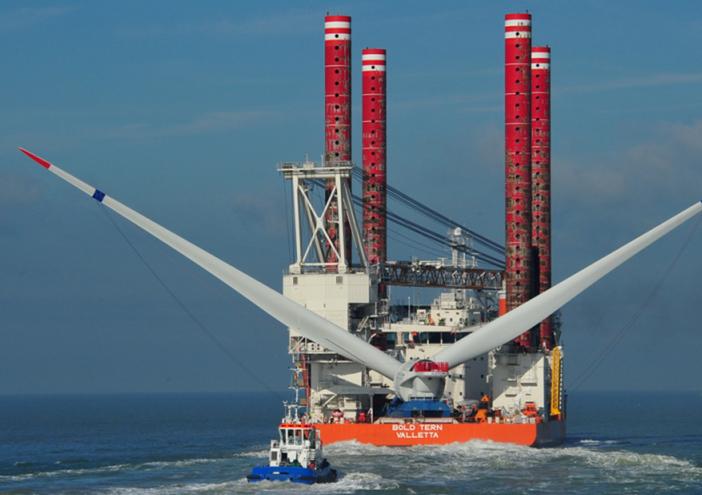 ---
The equity investment was complemented with $290 million in debt financing from the French financial services company Société Générale, of Paris, which has previously invested in European offshore wind, and Ohio-based Key Bank, which has no prior experience in the sector. This financing package allowed construction to begin.
"Block Island expands SG's offshore wind footprint outside of Europe and strengthens our global track record arranging debt for offshore wind projects," Alexander Krolick, Director of Energy Project Finance in the Americas at Société Générale, said at the time.
Alstom's efficient turbines
First of all, there are no offshore turbines made in America. So Deepwater knew it would always rely on a European manufacturer. Block Island was also originally conceived using turbines in the 3-3.6MW range, but as the project's planned timeline extended, a new generation of larger models became an option.
Grybowski told Forbes he's optimistic about new technologies that will improve future project economics:
We are now moving from geared to direct-drive turbines. This is important because direct-drive machines promise fewer outages. Experience from Europe shows that gearless technology requires less heavy lift equipment while reducing operational costs over their lifetime.
Deepwater finally selected French engineering firm Alstom to supply five of its 6MW offshore turbines for the project. (See the press release.) Each turbine is capable of producing approximately 125,000 MW of electricity a year.
Since the Haliade 6 MW wind turbine's 150-meter diameter rotor provides an energy yield that is 15% better than previous offshore turbines, it will provide more output than earlier models. The new capacity will exceed 47%, compared to initial projections of 40%.
Going back to Europe
Finally, because offshore turbines are so tall, Deepwater had to return Europe to find its jack-up vessel. It selected Fred. Olsen Windcarrier to provide its vessel Bold Tern for the installation. According to Windcarrier's website, the company was established in 2008 to meet the growing demand for offshore wind turbine installation vessels in Europe. The company had also previously installed Alstom's first Haliade 150 turbine in a demonstration project.
---
"We are very pleased to add Windcarrier," said Grybowski. "Its Bold Tern is a class-leading vessel for offshore installation."
"Bryan Wilson, Deepwater's Block Island wind farm project manager, explained the installation process. The turbines, which will be stored in North Kingstown, will be taken to the installation site by a barge. The Bold Tern then will pick up the turbine pieces with a large crane and assemble them in the water. The Bold Tern is what is referred to as a "jack-up vessel," which means it has the ability to raise its hull above the water's surface.
A much bigger project
Deepwater Wind has won a 30-year lease in 2013 on 256 square miles of prime federal lands about 30 miles off the coast of Montauk, where they initially planned to build about 35 6-megawatt turbines, but have room to install up to 200 turbines, if a utility company agrees to buy the electricity they produce.
Where should the next US offshore wind project be?