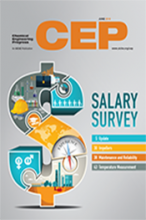 ---
Salary Survey
2015 AIChE SALARY SURVEY
Chemical engineers continue to earn more than the average U.S. worker. The median salary of survey respondents is $127,000 — a 5.8% increase over 
the median reported in 2013. AIChE members can download an expanded version of the print article, with additional information, tables, and figures from CEP's website.
Plant Operations
Develop a Maintenance and Reliability Plan
An effective reliability program provides the right maintenance on the right assets at the right time.
Back to Basics
Select the Right Impeller
The key to effective, efficient mixing is selecting the appropriate impeller.
Heat Transfer
Minimize Errors in Temperature Measurement
Temperature measurements are most useful when they are accurate. Find out how to estimate the error attributable to a temperature probe and ways to minimize it.
News:
A Bionic Device Mimics Natural Photosynthesis
Molecules Click into Biocompatible Hydrogels
Nature-Inspired Coating Wards Off Water and Light
Leakproof Graphene Finds a Home in Water Filtration
Onions Flex their Muscles Outside of the Kitchen
Bird of Paradise Inspires Colorful Films
Plus:
Letters
AIChE Journal Highlight: New Model Optimizes Water Use in Shale Gas Development
Catalyzing Commercialization: High-Performance MOFs Improve the Economics of Industrial Gases
Process Automation Corner: The U.S. Chemicals Industry in Perspective
Process Safety Beacon: Conduct of Operations
Career Corner: Building Your Negotiating Skills
Profile: Building Entrepreneurial Excellence
What's New
Books
Product Digest: Laboratory Equipment
Software
Calendars
Institute News:

Meeting Summary: Spring Meeting and 11th Global Congress on Process Safety
AIChE's 2014 Financial Statements
Your AIChE Membership — Leadership Opportunities
Diversity Workshop Sets Agenda for Summit at Annual Meeting
The June 2015 issue of CEP is now available online. AIChE members receive access to CEP, including a searchable archive of issues dating back to 2001, online at http://www.aiche.org/cep