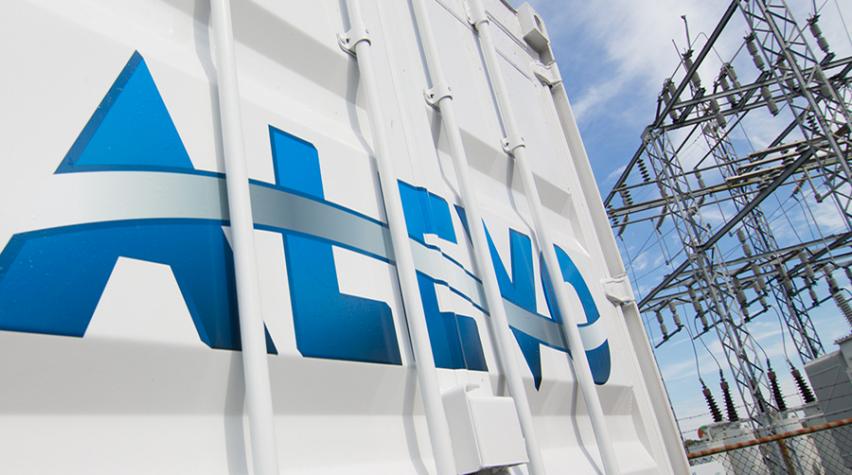 After a short intro by CEO Jostein Eikeland, raucous clapping and shouting erupts from the audience.  As the curtain rises and the crowd surges, what's causing this manic crowd crush? A rockstar or a big-time movie star? Not this time. It's just a standard issue, white shipping container, emblazoned with the blue Alevo logo, sitting motionlessly on the stage.(The company calls it a GridBank, since it's full of thousands of lithium-ion battery cells that can potentially power up to 1,300 homes for an hour.) This is the opening ceremony in a so-new-it's-still-empty factory in North Carolina. 
Seemingly out of nowhere, Alevo, a stealth 10-year-old startup, has emerged as a serious rival to Tesla in the race to achieve grid battery manufacturing by spending $1 billion to turn this old North Carolina Philip Morris cigarette factory into a manufacturing hub capable of pumping out "several gigawatts" of capacity a year.
Alevo also just announced a joint agreement with Customized Energy Solutions, aimed at bringing projects to U.S. wholesale energy markets, where CES typically works with regional transmission organizations that move electricity over large, multistate areas to serve more than 350 customers. On top of that, Alevo says it's already booked about 200 megawatts of orders - enough to keep the factory humming for a year. 
A technological leap
In high-tech manufacturing, companies typically use pilot projects to prove their technology to investors and potential customers before ramping up. That's not how grid-battery maker Alevo is playing the game. And its batteries aren't for sale. Calling itself an "energy services provider" instead, Alevo will package its 2-megawatt, 1-megawatt-hour GridBank systems and make them available as a turnkey contractor.
Jeff Gates, Alevo's vice president of operations, told Greentech Media, "Rather than waiting for third-party sales to drive that volume cost reduction, we're driving it ourselves." And while Alevo is open to selling its batteries to other project partners, "We're not selling batteries; we're selling energy storage as a service."
The company plans to make money by improving services in energy markets normally filled by natural gas peaker plants, like injecting short bursts of power to stabilize frequency (frequency regeneration) or providing power during expensive peak hours of the day (demand shifting). 
Tackling these lucrative services, the startup is competing against much larger players like AES Energy Storage, NRG Energy, and Duke Energy. But Alevo thinks it has an edge since its lithium-iron-phosphate batteries are the first to use an inorganic electrolyte based on sulfur, preventing over-heating, expansion and eventual failure. Alevo claims that its special battery chemistry will enable them to last 43,000 cycles of full discharge, which is about 20 years. That is about four times as much as rival batteries, Sam Wilkinson, an energy storage analyst for IHS Technology, told Reuters. Wilkinson, who was briefed by Alevo on its plans, said that if the batteries work as promised they will constitute a technological leap.
Alevo's second advantage: data analytics
Alevo has also done a lot of work on the software and data side of grid-scale energy storage. It has invested about $100 million to develop a utility industry simulation and modeling engine. The company claims by that using algorithms to analyze utility data to simulate power demand and supply, its Grirdbanks can significantly reduce wasted energy. "We're able to deliver the optimal service level to get more grid robustness," Eikeland says. Using energy storage at the right times could reduce up to 30 percent of the energy now wasted in the inefficient operation of fossil fuel power plants. 
The goal is to find where energy storage can be cost-effectively deployed, and how its value can be captured across multiple revenue streams, at a level of accuracy that can satisfy financial backers.
The company has worked with parties like the Western Electricity Coordinating Council, the group that manages the pan-Western U.S. transmission grid, to prove its model works. Alevo compressed its data so that an analysis process that initially took about 36 hours was reduced to just ten minutes per simulation.
After the company ran thousands of scenarios simulating its batteries' response on the electric grid that powers 15 US states and Canadian provinces,  Alevo said its system could reduce waste at a typical coal plant by up to 11%, saving electricity companies money, and cutting greenhouse gas emissions by as much as 7%.
Alevo plans to market its services three ways. First, it's working with government entities and state-owned utilities, including a partnerships with with China-ZK, a 51% privately funded body that coordinates energy infrastructure in China, and a distribution partnership with Turkish firm RBM. The company's batteries are set to be certified for use in China later this year.
The second is to enter commercial markets like mid-Atlantic grid operator PJM's frequency regulation market, which already has more than 1 gigawatt of battery systems participating. Finally, the third is with individual utilities, to see how Alevo can build storage as a utility asset. Most of those utilities are already providing their data sets, and Alevo is in the midst of running scenarios.
Is this the real start of Grid 2.0?
Image: GridBank, Alevo