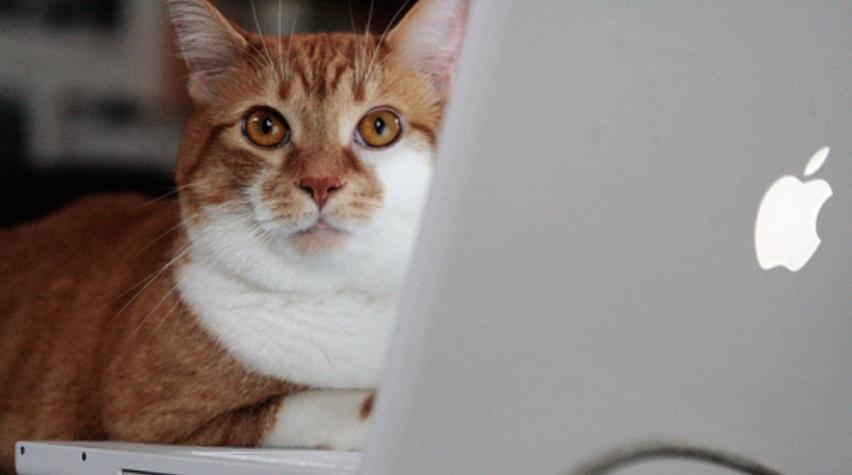 This fall we're featuring some of our top posts of all time. This great Excel series, which starts with the post below, is a perennial favorite. Check it out If you've not yet had the pleasure. Keep an eye out for more all-time favorites through the end of the year.
Could you imagine your workplace without Microsoft Excel? Absolutely not.
Excel is the language of business from corporate offices on down to manufacturing facilities. When a firm hires a new employee, it is assumed they are 1) breathing and 2) have acceptable Excel expertise.
.. oh, I'm sorry. I've forgotten to introduce myself. My name is Greg, and I'm an orange cat.
With the permission of my young professional ChE friend and the use his delicious Apple laptop, I've decided to contribute to the AIChE ChEnected community.. and I will do this through the use of my soft, orange paws to blog regularly about Excel.
So, without further ado, allow me to introduce Tip#1:
Tip#1: Creating Your Own Functions
Just a disclaimer: This first tip is a little involved, simply because it involves the use of VBA (a programming language), but it is not difficult!
The Skinny on Excel Functions
Excel functions are easy! The difficult part is knowing which one to use. A nice, complete list of Excel's functions can be found here. All you gotta' do is type them into a cell.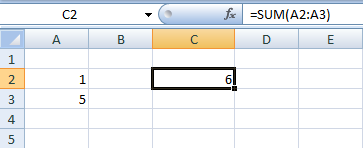 Making Your Own Excel Function (!!!)
Alright, crack your paws and get into a comfortable position; this will require some typing. The first thing we need to do is open the Visual Basic editor.
Example - A Simple Modified 'SUM' Function
1) Opening the Visual Basic Editor
Press Alt+F11
2) Open a Module
3) Type/Create Your Function
Type the following into the module:
Function CAT_SUM(x as Integer, y as Integer) CAT_SUM = x + y End Function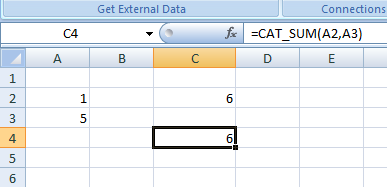 Notice the SUM function we had used before has the same result as the CAT_SUM function we have just created.
The Anatomy of A VBA Excel Function
Now that you've seen a quick example, allow me to share with you the basics of how VBA Excel functions are created: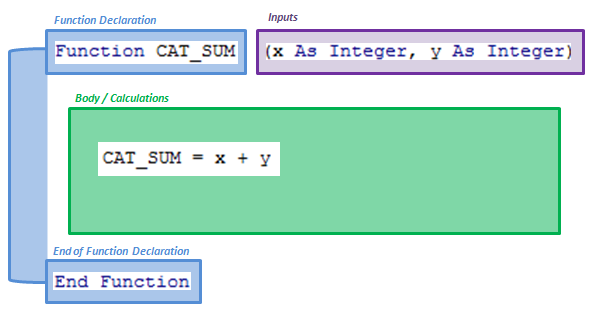 If this function looks familiar, it should. It's the CAT_SUM function in the example above.
The function's beginning is marked by the Function Declaration, and the function's end is marked by the End of Function Declaration. In between, we have the Body of the function in which calculations are performed (usually involving any indicated Input parameters).
Summary
Custom VBA Excel functions can be used to simplify your spreadsheets, but, because they require knowledge of rudimentary VBA, they do require some patience to learn. However, once you've gotten a hold on them, you can do some pretty amazing things (much more complicated than a simple sum)!
If you have any questions about the content of this post, please contact my young professional ChE friend, Todd Krueger.
- Greg the Orange Cat