As states keep adding record amounts of wind and solar power to their grids, everyone's looking to buy some form of grid storage. That makes Bill Radvak, American Vanadium's CEO, a happy man. When he thinks about California, he knows the state needs to smooth out growing afternoon solar peaks, while Texas wants to save the power produced by wind turbines in the late evening. On the demand side, New York's Metropolitan Transit Authority (MTA), one of the largest energy users in the US, is hosting a demo of a 400 kilowatt-hour array of CellCube vanadium redox flow batteries at a new 1.6 million square foot office building in downtown Manhattan.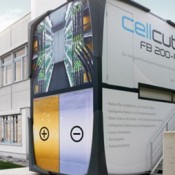 Demand shaving
The MTA selected Radvak's CellCube because it can provide hours of long-duration power, setting it apart from the much shorter duration lithium-ion batteries touted by Solar City, Stem, and Green Charge Nation. And like all flow batteries, they can be easily scaled up by adding more electrolyte tanks. The more volume, the more cost-effective. They're also very reliable storage systems too, keeping 99% of their charge for up to a year. Radvak is the right man, with the right product, at the right time. In business school he would have called it riding a secular trend; as a miner, it feels like life's oozing warmly over his boot tops.
During the two-year demonstration period, the MTA and local New York utility ConEd want to see how much power and money a customer can save by shaving demand levels. The batteries are charged at night when the rates are low, then during the day, the stored energy is released to reduce the building's daily peak loads, cutting the charges that often make up over half of a commercial business' power bill. Extra energy is sent to the grid to ease congestion, because eventually New York City wants to use battery storage to meet growing demand, instead of building expensive, new substations.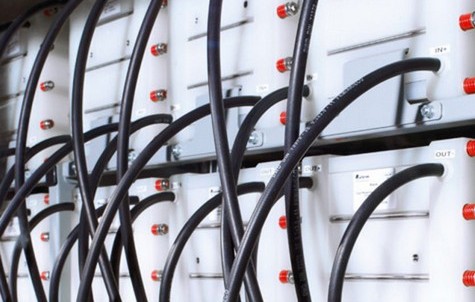 Flow Battery advantages
American Vanadium, which is actually a Canadian mining company, has been CellCube's North American distribution partner since May 2013. "CellCube expects to be a major player in the $5 billion long-duration battery market in 2020, capturing at least 20 percent of the market by then," Bill Radvak told Reuters. Meanwhile, Gildemeister, CellCube's German manufacturer, has already sold more than 65 batteries across Europe and Asia and is now working with a partner to create European "battery parks" that will smooth out grids congested by renewable energy.
CellCube's vanadium flow batteries come with other advantages. Vanadium provides significant power and energy over other battery combinations (zinc bromine, iron chromium) used by competitors. CellCube's batteries are also durable and nearly ageless. Since only one metal (vanadium) is used in the electrolyte, electrode degradation is nearly nonexistent, giving the battery a 20-plus-year lifespan.
But there's a catch. Which is how Radvack got involved with grid batteries in the first place. Vanadium is much more expensive than the other metals. That's because CellCube fights the global steel industry over a limited supply of the metal used to make strong alloys for tools, buildings, bridges, and "rebar" reinforced concrete. "Steel mills love it," Radvak told the BBC. "They take a bar of vanadium, throw it in the mix. At the end of the day they can keep the same strength of the metal, but use 30% less."
Making matters worse, only three countries provide most of the supply: China, Russia and South Africa. Unfortunately, China has been going through the biggest construction boom in history and hogging demand. Beijing's recent decision to use higher quality steel rebar has already bumped costs up for the rare metal.
An old vanadium mine
Back in 2006, when Radvak's Canadian mining company decided to reopen the old, Gibellini vanadium mine in Nevada, renewable energy, battery storage, and grids were the last thing on his mind. Back then, vanadium was all about steel. Planning to produce 14 million pounds of vanadium per year, about 5% of world supply, the mine had the potential to be the world's lowest cost producer. When finally open, processing the vanadium in a sulfuric acid leaching process would produce vanadium pentoxide for steel and vanadium electrolyte for flow batteries.
Changing the business plan
But Radvak changed his business plan once he realized that vanadium pentoxide would bring $5 per pound, but electrolyte for flow batteries would was a cool US$25 per pound. After popping his forehead with the heel of his hand, ahe said, "We're gonna help create the energy storage market in North America." Later, once the mine was finally in operation, Gildemeister offered to buy all the electrolyte for its North American Cellcube from American Vanadium.
Radvack went with Gildemeister because it was the company that was the most commercially advanced. The deal would allow Gildemeister to grow to any scale it wanted, which, according to Radvack, would be jeopardized without a secure vanadium supply.
Currently, American Vanadium is in talks with a global power company and two large US solar developers to use its vanadium flow battery in "major" projects. If the deals materialize, they want to install microgrids with solar and energy-storage, Radvak told Bloomberg.
This is part of Radvak's rapid growth strategy. "We targeted the largest energy developers and integrators in North America," he said, "proposing to be the (storage) provider for companies that have numerous customers or a backlog of projects in need of long-duration energy storage."