By Elena Lien & Kate Larson, Chemical Educational Foundation
Twelve-year-old Audrey Gallier hasn't decided what she wants to do when she grows up, but she knows it involves science. And she's not waiting until college to crack open advanced textbooks - she's been studying organic molecules, chemical reactions, and industrial applications of chemistry for months as a participant in the Chemical Educational Foundation(R) (CEF)'s You Be The Chemist Challenge(R), an academic competition for grade 5-8 students. On June 23rd, Audrey's efforts paid off: she beat out nearly 25,000 students nationwide to win the title of 2014 National Challenge Champion.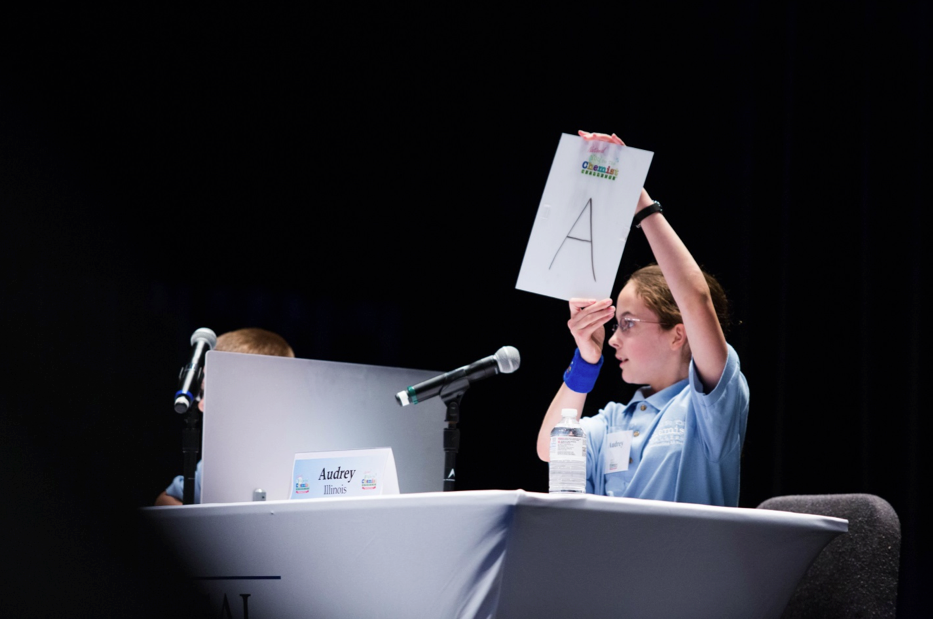 ...And she wasn't even nervous
The 2014 National Challenge was the culmination of a year of exciting chemistry competitions at the local and state levels. Thirty students, one from each participating state, won an expenses-paid trip to Philadelphia to compete at the national level. Only a sixth-grader, Audrey was the second-youngest student there.
"To win is fun and I didn't expect it," Audrey told a reporter from the Chicago Tribune. She said that tough questions about isotopes, pH values, and radioactivity didn't faze her: she was not nervous before the competition. Many of the 300+ industry members, educators, parents, and guests who attended the event gushed about the impressive knowledge that students displayed throughout.
Industry members play a vital role in the success of CEF's programs, providing sponsorships and volunteer support in communities across the country. Chemical companies, including The Dow Chemical Company, BASF Corporation, Brenntag North America, Inc., and Shell Chemical Company, sponsored the national competition and associated events. "We recognize that today's students are tomorrow's innovators and industry leaders," notes Bill Fidler, member of the Brenntag AG management board. "We need to get students excited about STEM education in their formative years... This investment will help mold a generation of informed citizens and scientists."
How you can get involved
Chemical industry members with a passion for bringing the excitement of chemistry to kids in their communities are the key to the You Be The Chemist Challenge(R). These superstar volunteers are CEF's Challenge Organizers! Challenge Organizers team up with other chemical industry sponsors and educators to coordinate school involvement in the fall and a quiz-bowl format competition in the spring. As they volunteer on behalf of the Challenge, organizers get a chance to share information about who they are and what they do with the industries, schools, and people in their communities. Being a Challenge organizer requires an investment of time, but it comes with real rewards--networking with other professionals who are passionate about chemistry and education and, most notably, getting middle school students excited about science.
If you would like to know more about the program, visit www.chemed.org or call 571/482-3039 to find out about opportunities to champion the Challenge in your community.
What would this competition have meant to you when you were young?
Images: ColinColemanFotos.com