No doubt about it, there had been signs of an "overbuild," and the liquefaction market had displayed bubbliciousness, but Vladimir Putin will probably hog all the credit for popping the already deflating LNG bubble. Before his clever machinations, US natural gas prices had hit a decade low of $1.90 per million BTUs in 2012 with the wildfire spread of shale gas drilling, while the 2011 earthquake and Fukushima disaster caused Japan to take its nuclear power plants offline, sending Asian gas prices skyrocketing to painful levels. Recently, however, the big price spread started to shrink as new LNG exports came online and Japan's Prime Minister Shinzo Abe pushed to restart some of the country's nuclear reactors.
But first, Putin changed the rules by annexing the Crimea and menacing the Ukraine shortly after the Sochi Winter Olympics, which looked like a rash power grab, tainting millions of dollars of cheerful McDonald's ads and Olympic goodwill. US media quickly shoe-horned him into a Cold War mold: his gambit, a nostalgic - almost pathetic - attempt to reconstitute Mother Russia by snatching an EU-leaning prize. While partially true, it now looks more like Putin wanted to dramatically signal a cold shoulder to the Russian-gas-addicted West before "looking East" to secure new energy markets in China. (I imagine that Putin wears either an aspirational Oprah or Al Pacino Scarface tattoo hidden below his belt line.)
Once the gas starts flowing
But credit where credit's due: shortly after Russia's Crimea incursion and its global PR fallout, Putin accelerated declining energy prices throughout Asia with one stroke of the pen after China signed a landmark 30-year, $400 billion deal to buy Russian natural gas. This mutually beneficial nat gas real politic boldly showed that Russia could diversify far beyond whiny Europe; and for smoggy and polluted China, it showed a strong resolve to curb its politically sensitive reliance on coal that was threatening its tenuous legitimacy.
The huge deal calls for Russia's Gazprom to ship 38 billion cubic meters of gas annually to China, about a quarter of the country's annual consumption. To deliver the natural gas, Russia will build a pipeline to link northeast China to a pipeline that carries gas from western Siberia to the Pacific port of Vladivostok.
Once the gas starts flowing, China will probably pay $10.50 to $11 per million British thermal units, which would undercut the current spot price of $13.30 for LNG delivered to Asia. Spot LNG prices are at a 19-month low after falling from a record of $19.70 in February. That's change an Russian oligarch or Chinese princeling can believe in.
It "opened the door for Russia to enter into Asia's growing gas market," Keun-Wook Paik, senior research fellow at the Oxford Institute for Energy Studies, told Fuelfix. Potential LNG exporters are quickly recalibrating the dream of supplying energy to Asia as India, and Japan also begin to consider new options. It's a good bet that many phantom LNG plants will never break ground.
The India domino
The Russia-China pipeline buzz has already begun to spread. India's Financial Express reported that during the World Petroleum Congress held in Moscow, Indian petroleum minister Dharmendra Pradhan discussed with his Russian counterpart, Alexander Novak, setting up a extension of the Russia-China pipeline.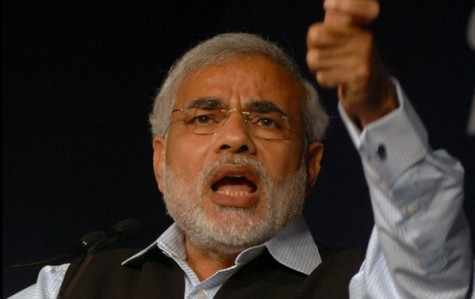 Sources said that with Narendra Modi's bluntly stated desire to meet India's rising energy demands, his government is ready to start negotiating during the BRIC summit in July. If the pipeline extension from Russia through China to India is built, it will reduce the high energy costs that are dragging on India's economy. "India is a large importer of energy - its net energy imports were 6.3% of the GDP. Without energy imports, we calculate it would have run a current account surplus of 4.6% of the GDP," the Goldman Sachs said in a recent report.
For Modi, coming off the Gujarat miracle, growth is everything to him - his political brand - because without it he can't fulfill the promises he made to India's poor and middle class who put him in office, and the country collapses into a hopeless muddle. Since industrialization without low energy prices is impossible, he's seriously looking for cheaper energy sources to augment his push into renewables and coal, and this makes a long-term deal with Russia a very practical option for a very pragmatic politician.
The Japanese domino
After seeing the deal with China, anxious Japanese lawmakers are reviving efforts for a $5.9 billion natural gas pipeline from Russia. They no longer want to be the Gilligan's Island of energy and plan to propose the project to Prime Minister Shinzo Abe soon enough to be the radar when Vladimir Putin visits in autumn.
After shutting down the nation's nuclear power plants, LNG use skyrocketed as power companies ran LNG thermal power plants at full capacity. Japan now consumes nearly one-third of the world's supply of liquefied natural gas. Between 2010 and 2012, while annual oil imports rose 4 percent, imports of liquefied natural gas leaped 24 percent. The cost of power in 2012 was $30 billion higher than it was in 2010 - a 41 percent jump, according to a report by the Institute of Energy Economics in Japan.
The 33 lawmakers are backing a 1,350-kilometer (839 miles) pipeline between Russia's Sakhalin Island and Japan's Ibaraki prefecture, northeast of Tokyo. In the early 2000s, in a much different era, Exxon and other natural gas suppliers wanted to build a similar pipeline, but Japanese utilities killed the deal. After all, at the time "trouble free" nuclear energy was becoming Japan's go-to source of electricity generation.
Whether the pipeline is built or not, Japan and Russia are already energy allies. Japan imported 9.8% of their LNG from Russia last year. And in 2012, Gazaprom - Putin's right arm - agreed to double LNG shipments to Japan by 2020.
As part of the agreement, Tokyo arranged to buy LNG from Gazaprom's yet-to-be-constructed export terminal in Vladivostok. When it does go online in 2019, it will export 10 million tons of natural gas per year to Japan, on top of the 10 million tons Japan currently receives from a different terminal. Of course, anyone from Australia or the US planning a new LNG plant knows that Vladivostok's lower shipping fees put them at a distinct disadvantage. Could be game over for late comers.