Mexico's Senate just voted to open its hermetically closed energy industry to private companies for the first time in more than seventy years. The landmark legislation cracks open Pemex's sclerotic state monopoly and inserts a new framework for awarding oil and national gas contracts to outside companies like Chevron and Exxon Mobil, which amounts to a code blue, crash cart resuscitation that couldn't have happened a moment too soon.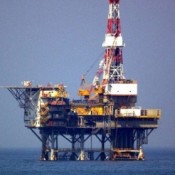 While most headlines heralded halting a severe decline in oil and gas production that was choking off government revenue, in the end, Mexico really needed cheaper electricity, and lots of it. It's probably no coincidence that Mexico just survived a costly brush with global LNG spot prices while struggling to prevent system-wide grid seizure.
Even Emilio Lozoya, CEO of Pemex, would agree that it "created the perfect storm for energy reform," reported Fuelfix, as normally disinterested politicians finally agreed that high energy costs had caused years of stagnant growth.
The Doomsday scenario
By the spring of 2013, Pemex's oil production had declined by 25 percent from its 2004 peak. Investment in exploration doubled to about $20 billion a year as the company tried to find new oil, but, at the same time, managed to neglect vast but less-profitable natural-gas reserves (the world's sixth largest at 545 Tcf). Mexico, once self sufficient in natural gas, now found itself a hostage to cheap natural gas imports from the US.
In the US Congress, as the debate dragged on about authorizing new LNG export terminals to ship natural gas overseas, few people knew how much natural gas was flooding Mexico by pipeline. By the spring of 2013, the US was exporting almost 2.0 billion cubic feet a day to Mexico.
That was about 3 percent of US output, according to Kinder Morgan Energy Partners, and they should know because they exported almost all of it through their pipelines. From the US side of the border, the big story was "natural gas exports to Mexico, not the LNG exports," Anas Alhajji, at private equity firm NGP in Irving, Texas, told Bloomberg News. "We are going to export an amount that is equal to LNG exports."
Supercharged manufacturing hub
Mexico's need for energy accelerated after edging out China to became a destination for companies seeking cheap labor and lower costs near the US market. Mexico had an edge over China in electricity costs, and China also pays at least 50 percent more for natural gas. As manufacturing ramped up, Mexico was making almost a quarter of the vehicles imported into the United States. In 2013, Nissan and Daimler said they would spend $1.4 billion to build compact luxury cars in Mexico, which came after a $2 billion Nissan plant opened in 2012. Gas demand got an extra boost because local industries also wanted access to the $4 gas coming from across the border.
Racing to keep up with demand, several pipeline projects, many from Texas, were scheduled to be built by the end of 2014. Those projects would have doubled the US exports to Mexico to 7 billion cubic feet per day -- five times more than Freeport LNG would be allowed to export. But unfortunately, by the spring of 2013, pipeline capacity had maxed out.
The LNG hits the fan
So even though natural gas prices in Texas were at historic lows, Latin America's second-largest economy faced a gas deficit of about 33 percent and alerted companies of impending shortages. During the spring, Pemex sent out over 100 alerts telling industrial consumers to cut back on gas, causing weeks of lost productivity.
"That amounted to 42 days the last year," said Regulo Salinas, the head of the energy commission of Mexico's Confederation of Industrial Chambers, an industry umbrella group.
So when the cheap US imports finally hit the pipeline limit, Pemex started panic buying LNG at $19.45 per million mmBtu to avert grid failures. To guarantee that the power would continue to stay on, state transmission monopoly the Federal Electricity Commission, CFE, awarded the country's biggest tender for 30 more LNG cargoes.
"They say we bought expensive gas but today we're worried about the integrity of the system," Alejandro Martinez, director of Pemex Gas and Basic Petrochemicals said to Reuters.
Finally on Aug. 12, President Enrique Pena Nieto announced sweeping changes to Mexico's oil and natural gas industries to boost exploration and production by allowing foreign companies to invest in risk-sharing contracts.
Adios, L?zaro C?rdenas
Along with oil and gas exploration, power generation will also be radically reformed. Although Mexico has had exclusive control over transmission through CFE, the private sector will now be allowed to build, operate, and finance infrastructure needed for transmission and distribution. The private sector will also generate and sell it to end-users.
Both CFE and Pemex will be transformed into "productive state companies," which means they will have control over their own budgets and performance. It essentially "corporatizes" them to become more competitive.
One of the biggest changes is the creation of the National Center of Energy Control, CENACE, a federal agency that will operate the grid and the national power market to ensure equal access. This was a key provision because under the current state monopoly structure, CFE controls the entire process from power generation to transmission, so there is no competitive market with an dependent system operator in the middle to foster competition. Optimistically, any savings from the new competitive bidding would be transferred to consumers.
Images: drilling rig and gas station, Pemex; pipeline, Kinder Morgan; LNG ship, Wmeinhart; Electricity pylons, Zorba the Geek