Can Omnigrid Micopower (OMC), a small, three-year-old renewable energy services startup, help change the way a sprawling, chaotic country like India delivers electricity to the poor? It's a transformation that will take years to play out, with plenty of mistakes along the way, but it has a business strategy strongly supported by the new government. And, like all infrastructure construction, it is promoted by incentives put in place several years ago by the previous government.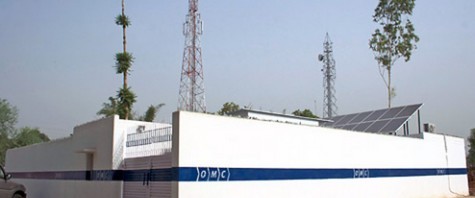 Fortunately, Narendra Modi just made bringing electricity to the rural poor a priority, in an attempt to correct a decades-long policy failure. After successfully adopting solar in Gujarat, Modi appears qualified to at least try to change India's energy infrastructure. After all, he's considered "the country's first energy literate Prime Minister," who combines astute political instincts with a deft use of modern technology. He's also proved his ability to find solutions that lie outside conventional thinking. As an example, he capped a slick and effective social media push during the election by simultaneously appearing as a 3D holographic pitchman at local campaign rallies across the nation. And, like all successful politicians, he'll be riding powerful trends that are breaking his way.
Leap-frogging the old power grid
Modi threw down the political gauntlet just days after his landslide victory when a party official told the 400 million people living beyond the country's blackout-prone power grid that every home would run at least one light bulb by 2019. It's audacious to offer the same promise made after every election since India first gained independence in 1947, while assuring everyone that this time the "Modi method" will be different.
The official added that solar power - instead of coal, which powers much of the grid - would be the energy of choice. The details are sketchy but it looks like the Modi government is probably leaving the grid behind, eapfrogging technologies, as it kicks off rural electrification on a grand scale.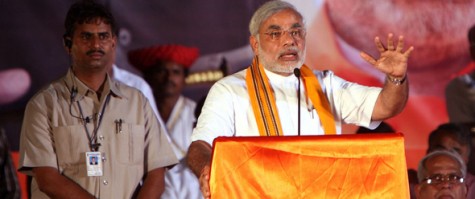 After waiting for decades, skeptical voters must wonder if this plan is even possible in a country where congested highways, chronically late trains, and its infamous grid are in such disrepair they're dragging down the economy. After all, the overwhelming effect of these slow-motion train wrecks suggests nothing works.
The Indian blackout's silver lining
Well, for an answer, look no further than the nation-wide, 2012 blackout, when a cascading power failure swept through the country and threw 700 million people into abrupt darkness. While the nation waited for the lights to turn back on, 400,000 nation-wide cell sites, connecting 900 million mobile phone users - both urban and rural - remained up and running. Stranded callers could still use their cellphones to reach out to family and friends, which probably felt like a minor miracle, until the batteries died.
This was possible because most Indian cell-phone base stations, which include a tower and radio equipment, rely on backup diesel because power from the grid is so unpredictable. If there is no grid in the area, they run on diesel around the clock, which is very expensive. That's why solar fits so well into this scenario. To see how, let's return to the traumatic 2012 blackout.
Bharti Infratel's deep pockets
Ironically, just days after the huge blackout, an historic deal was made between Omnigrid Micopower (OMC), the renewable energy supplier, and Bharti Infratel (India's largest mobile tower owner) to power its off grid cell phone towers, sidelining diesel to a rarely used backup status. It marked the widespread adoption of a new business model and the birth of rural community power, where OMC sets up small solar plants near telecom towers and sends them power through underground cables. Then, having built more solar capacity than the tower requires, supplies the extra power to local villages through lanterns and battery boxes, which were charged, rented and delivered by local entrepreneurs.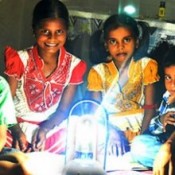 Currently, the company operates 10 micro-grid systems in Uttar Pradesh. It will roll out another 100 plants soon. Its long-term plans had involved building 5,000 plants in four to five years. But with the momentum created by Modi's initiatives, those figures are probably too small.
The OMC-Bharti deal represents the evolution of two trends - an energy twofer. First, the government had been trying to cut down the country's dependence on foreign oil and reduce its large deficits caused by subsidizing diesel fuel. (At the time, telecoms consumed about 3 billion liters of diesel, briefly beating Indian Railways as the nation's largest fuel consumer.) So it had recently mandated that 50 percent of rural sites would be powered by renewables by 2015. That brought Bharti to the table.
At the same time, NGO's bringing standalone solar or small micro-grids to villages had been bogged down because unpredictable revenue from the poor made outside financing impossible from conservative bankers. But OMC's deep-pocketed anchor tenant changes that equation. OMC executives also insist there's plenty of room across India for more RESCOs with the same business plan.
Jump-starting the telecom sector
The government had put a another crucial policy in place to jump start the sector and encourage more solar conversions: it granted towers "infrastructure" status, making them equal to roads, ports, hospitals. This allowed an industry that had borrowed at 12-13% for five-to-seven year loans to get loans at 3-4% for 10 to 15 years, giving them plenty of potential to grow.
So for Modi and OMC, all of the pieces of the puzzle have been put into place and the future is bright, with mammoth demand for off-grid power waiting to be met. According to OMC, there is the potential to set up 20,000 plants and the company has chalked up a plan to spread its coverage from Uttar Pradesh to West Bengal, Bihar, the northeast and Jammu & Kashmir. To paraphrase an appropriate cliche: it takes thousands of villages to electrify a country.