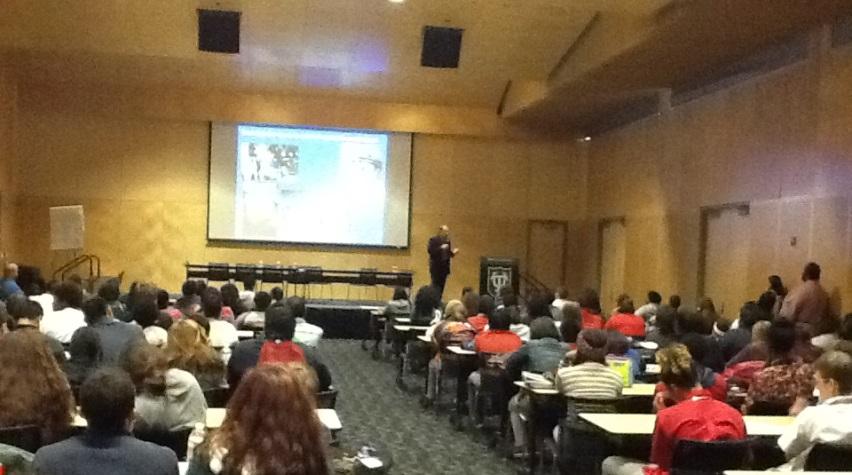 Submitted by Giselle Schlegel On Wednesday April 2nd at Tulane University, more than 160 students from three high schools in the New Orleans area gathered to listen and learn from practicing chemical engineers during the AIChE high school outreach event as part of the Spring Meeting. Students had the chance to hear from a variety of seasoned professionals about the work, challenges and rewards that encompass the chemical engineering profession. The students heard from professionals and academics from Tulane, UOP Honeywell, and Valero Energy Company. The speakers shared with the students what led them to select chemical engineering as a career choice, the passion they have for their jobs, and the benefits of a chemical engineering degree, such as the chance to make an impact on society and the opportunity to travel around the world. The discussions continued with questions from the students about daily life as an engineer and what requirements are necessary for acceptance into a college program.
The schools then selected two representatives from each high school to participate in a friendly competition where students took turns guessing what engineering discipline has the knowledge to solve each problem description. The game, with enthusiastic participation from the audience, went to a tiebreaker, and all students undoubtedly finished with a greater understanding of the diverse fields that a chemical engineer could influence. Prizes were awarded to participating students and to each high school.
Former astronaut Dr. Al Sacco returns as keynote
Back by popular demand from the outreach event in San Antonio in 2013, Dr. Al Sacco, Dean of Engineering at Texas Tech University and ex-NASA astronaut, returned as the keynote speaker. Dr. Sacco flew aboard the space shuttle Columbia in 1995. He shared anecdotes about the preparation and training he completed before his mission in space and the experiences he had when he was orbiting the earth, completing over 200 experiments for a variety of scientists, universities, and countries. He showed many photographs taken from the shuttle, including a series of pictures merged to show a nighttime photo of the globe and where the energy usage lies when the world is dark. He urged students to consider the grand challenges of the world including how to provide energy to those areas without access to electricity. Following this, a panel of engineers from a range of fields allowed for questions from the students about their careers. The day concluded with the students eating lunch with the speakers, allowing for one last opportunity to ask questions and learn from the visiting engineers. Proudly sponsored by Valero Energy Company in coordination with the Fuels and Petrochemicals Division, AIChE continues to support outreach efforts across the country. Interested readers can inquire here to learn more about getting involved in outreach events.