Houston's got the big mo, and Dow Chemical is riding that mo into a highly profitable future as it builds a new research campus where 2,000 employees will push the limits of polymer-based product innovation. This is the near culmination of the decade-long surge and splurge in natural gas exploration that lured petrochemical companies back to the United States to exploit low feedstock costs. As a result, new research centers like Dow's are springing up all over the wildly growing, widely spreading cityscape.

A year ago, Cal Dooley, CEO of the American Chemistry Council, proclaimed (along with a ACC shale gas study), "The United States has become a magnet for chemical industry investment, a testament to the favorable environment created by America's shale gas." All true. All happening. All part of the boomtown, petrochem zeitgeist. With Dow Chemical's $4 billion Freeport petrochemical facility, along with planned expansions at Exxon Mobil Chemical's two polyethylene plants in Baytown, and new chemical plants from Chevron Phillips Chemical, LyondellBasell and Mitsui, Dow's new campus won't be the last research node added to this rapidly evolving, deep-rooted ecosystem. "The discovery of shale has really recreated the value proposition to build these facilities,"Andrew Liveris, Dow's chief executive, told the Wall Street Journal.
The Dow campus

The Dow campus, known as the Texas Innovation Center, will be in Lake Jackson near the company's Freeport petrochemical complex, bringing several far-flung facilities under one roof. The campus will have five buildings, including three spacious, four-story properties and a stand-alone (Googleplex-lite) amenities center with a cafeteria and swank fitness area, according to a CGI animation of the project. Although the campus buildout is scheduled for completion in 2016, an early, white-coated cohort of scientists will begin working in state-of-the-art labs next year, said Trish Thompson, a Dow spokeswoman. They'll focus on improving food packaging and products like shampoos. "Our customers are always seeking solutions to making food packaging lighter, less bulky, able to store food longer," she told Fuelfix.
LyondellBasell's center opened last September
As the first new research center to open last fall, LyondellBasell's 70,000-square-foot Houston Technology Center develops process technologies and catalysts for its intermediates and derivatives business. It is located next to the company's largest US manufacturing complex in Channelview, east of Houston. (press release)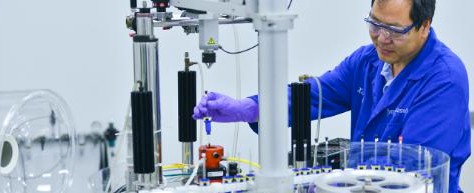 Focused on reducing manufacturing costs and improving yields for LyondellBasell's global chemicals business, the center will gather together about 80 researchers, with 22 relocated from a former facility near Philadelphia and the rest hired locally. Technologies supported at the site include propylene oxide, butanediol and derivatives, glycols and glycol ethers, acetyls, olefins and solvents. Other manufacturing supported by the center include three Houston-area facilities in Bayport and La Porte, Texas, as well as Botlek and Maasvlakte, Netherlands, Fos-sur-Mer, France, and a joint venture in Ningbo, China.
Basic research for the future
Last September the University of Houston announced a $4 million grant from the Welch Foundation to establish a polymer research center. The foundation, which is based in Houston, funds chemical research throughout the US. The gift will support startup packages to recruit the first two of four chemists for its new Center of Excellence in Polymer Chemistry. Eventually it will have a staff of twenty, training students on all levels.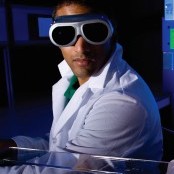 According to the university, chemists at the center will emphasize fundamental research - with a long, vanishing timeline - but will also work with Houston-area petrochemical companies seeking to convert natural gas feedstock into advanced materials on a shorter, product-based event horizon. According to the University, Mike Harold, chairman of the Department of Chemical Engineering, whose faculty will also be involved in the new center, said the gift will speed efforts to develop new polymer products and technologies. "This is especially timely with the domestic energy revolution we're experiencing." Also, every major chemical company is struggling to find enough employees to staff their new plants, so they're donating to specialized local school programs. For example, Exxon Mobil said it would fund a $500,000 chemical industry training program with nine community colleges.