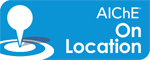 The 2014 AIChE Spring Meeting & 9th Global Congress in New Orleans began on Sunday, March 30th with a joint opening reception. This meeting's opening reception enticed attendees with a variety of local gastronomic delights, including gumbo, alligator sausages, grits, crab cakes, jambalaya, and boudin balls. In addition, attendees enjoyed a jazz band, watched an AIChE Foundation video, The Promise of Chemical Engineering.
Opening Night Reception Sponsor: BASF
BASF was the proud sponsor of the opening night reception. Included in the opening reception was this video from BASF:

Following are some pictures from the event.