In 2000, while still working as a teacher, Michael Arquin wanted to inspire more teachers and students to learn about science, technology, and wind energy. Two years later, he founded Minneapolis-based KidWind out of his apartment, and over the years, he has developed an wide array of lessons for science teachers to use as they introduce students to renewable energy.
Arquin described the KidWind philosophy on his blog:
Our lessons are designed to encourage student curiosity and inquiry. We are working to inspire the next generation of scientists, engineers, policy-makers, problem solvers, and decision makers!
The KidWind Challenge, the organization's signature program, gives students a chance to compete in building small, working wind turbines. KidWind plans to host 35 of these programs across the United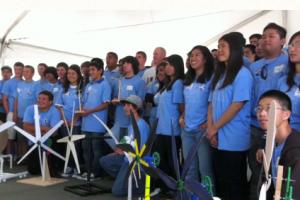 States in 2014, as well as two international events.
Watch a report from last year's event in Alberta, Canada.
Today, KidWind has trained over 7,000 teachers, who have imparted these lessons to more than 500,000 students, inspiring them to build over 50,000 experimental wind turbines. The KidWind website also invites both teachers and students to watch short videos and PowerPoints; try hands-on lessons and online readings, which thanks to the support from sponsors, are completely free.
Photos: various, KidWind