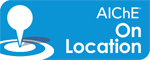 The Awards Ceremony for the 2013 Student Conference acknowledges notable achievements of AIChE student members. There are a variety of accolades presented at this ceremony including awards, scholarships, and competition winners.
The master of ceremonies is Frank Bowman, Chair of the Student Chapters Committee.
Award ceremony presenters
Douglas Ludlow, Omega Chi Epsilon
Daniel Crowl, Student Design Competition Committee
June Wispelwey, AIChE Executive Director
Phil Westmoreland, AIChE President 2013
Otis Shelton, AIChE President-Elect
Wendy Smades, SACHE Chair
Frank Bowman opened the event by introducing himself and thanking ScaleUp Sponsors. The ScaleUp program offers a sponsored membership to all undergraduate students taking any chemical engineering course. In addition, he thanked the 2012-2013 Executive Student Committee, who just concluded their year of service.
Finally, Frank drew attention to some of the ScaleUp sponsor companies that have booths at the conference's Recruitment Fair in Grand Ballroom A. They are looking forward to meeting students and talking about their companies. Representatives of graduate schools and companies from across the country will also be on hand to describe their degree programs, along with job and internship opportunities.
AIChE's student paper & design competitions
Taking the podium next was Dr. Douglas Ludlow, professor of chemical engineering at the Missouri University of Science & Technology, and president of Omega Chi Epsilon. He introduces the nine students whose performance at the spring regional conferences earned the opportunity to compete in this year's Student Paper Competition Finals, which will take place on Monday, November 4 from 8:30-11:30am.
Colin Dickens, Oregon State University
Marc W. Donnelly, Colorado School of Mines
Allison Drain, University of Nebraska-Lincoln
Conner Galleher, University of California, Berkeley
Lindsay Gray, University of Kentucky
Nicholas Kienzle, University of Cincinnati
Kirsten Parratt, Princeton University
Naureen Suteria, Texas Tech University
Michael Vilkhovoy, University of Massachusetts
See details on each of the above students' papers here.
Student design competition
Discussing the design competition, Dr. Ludlow continued:
AIChE runs on the commitment of its volunteers, and the Design Competition is no exception. AIChE's longest-running award is the Student Design Competition, which has been conducted nearly every year since 1932. This year's Design Competition challenge was titled "Comparison of Bio-mass to Bio-oils Reactor Systems: Direct Conversion vs. Companion Coal Gasification," and a team of judges selected the top solutions in both individual and team categories.
Dr. Ludlow then thanked the judges and announced the winners.
Individual
First Place in the Individual Category goes to Logan Matthews, Michigan State University.
Team
There was a tie in the William A. Cunningham Award Team Category: First-place awards go to both the Washington University in St. Louis team (Andrew Dougherty, Sarah Paleg and David Hagen), and the Trine University team (Gregory Diefenthaler and Aury Keller).
AIChE's Executive Director, June Wispelwey, took the floor next, thanking the volunteers who spend many hours behind the scenes to promote an ensure the value of AIChE's student awards, competitions, and programs. She then talked about the importance of AIChE's global expansion, which includes sister chapters in India, China, Saudi Arabia and Brazil, and member programs to benefit chemical engineers everywhere.
Awards from ScaleUp sponsors
ScaleUp Sponsor received their awards onstage. Among them were:
Nick Vinson, Aspen Tech's ScaleUp award, for his essay submission on what the future of computing looks like for the process industries and how chemical engineers will harness technology to interact with Information.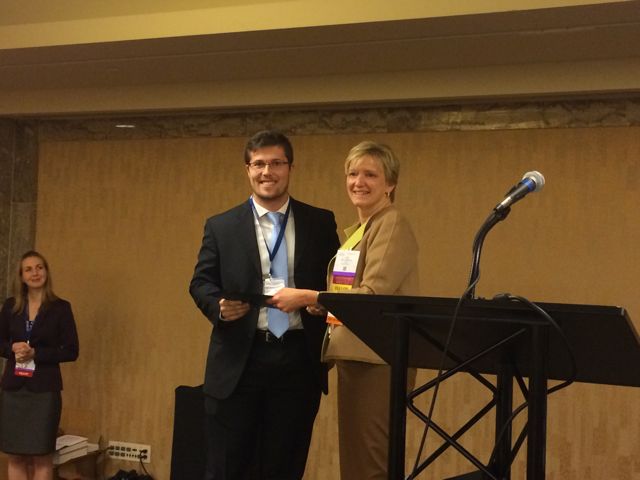 Agnesa Redere, Dow's ScaleUp award, for her essay submission on how to supply uncontaminated water to meet the challenges of the growing global population.
Nick Johnson, DuPont's ScaleUp award, for his essay submission on sustainability in the chemical engineering industry and how we can continue to push for improvements.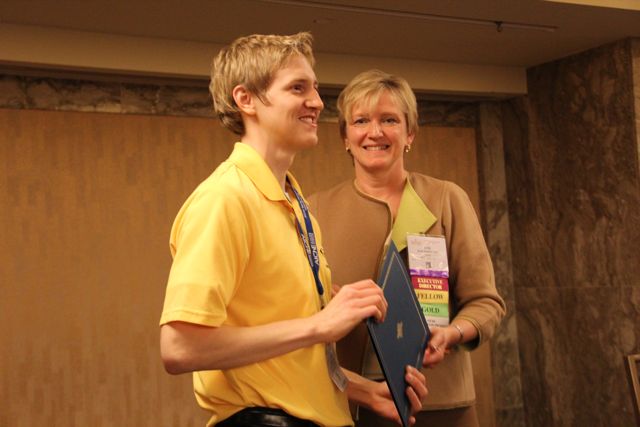 Lauren Tingley, UOP's ScaleUp award, for her essay submission on determining how safe a workplace should be and the consequences related to an environment not being safe enough.
Kelli Byrne, Praxair's ScaleUp award, for her essay submission on comparing the emissions of greenhouse gases from hydrogen production through reforming of natural gas and electrolysis of water.
John J. McKetta Undergraduate Scholarship
2013 AIChE President, Phil Westmoreland, took the stage to present the John J. McKetta Scholarship to Kati Johnson.
Kati is a senior from South Dakota School of Mines & Technology. Over the past three years, she has had two internships with Burns & McDonnell Engineering, where she assisted in the design of several chemical plants, and one internship assignment with The Dow Chemical Company.
Her latest project with Dow focused on using alternative temperature-controlling fluids to reduce thermal expansion in vessels. Kati is active in the AIChE student chapter at SDSM&T, fulfilling past roles of treasurer and junior representative, as well as playing a large part in a very successful regional conference by chairing multiple committees.
Learn more about this award.
President-Elect Otis Shelton took the stage and quizzed students in the room as to how many working engineers they know and what some of their job hunting techniques may be.
How many of you know a chemical engineer in a consulting, design, or regulatory function?
How many of you have been employed in a summer job or co-op position where you have gained exposure to what chemical engineers do?
He encouraged students to use their membership in AIChE to help build their real-world network by participating in their student chapter, get involved with local sections, meet people at the Annual meeting, and get their voice out there on this very blog!
Donald F. and Mildred Topp Othmer National Scholarship Awards
Following his remarks, he recognized the 15 winners of the Donald F. and Mildred Topp Othmer National Scholarship Awards. The award of $1,000 is given to chemical engineering students for their outstanding academic achievement and involvement in student chapter activities. The following students were recognized:
Kevin Diehl, Kansas State University
Keiron Durant, University of Arkansas, Fayetteville
Matthew Ferris, University of Texas at Austin
Sonja Glaser, University of Missouri
Ashlee Keenum, Oklahoma State University
Weston Kightlinger, University of Tulsa
Cheryl McCane, University of South Florida
Nick Schickel, University of Iowa
Colvin Wang, University of Virginia
Antonio Barberio, University of Pennsylvania
Steven DelaCruz, University of Nevada, Reno
German Parada, Iowa State University
Jean Smith, University of Massachusetts Amherst
Michelle Teplensky, Massachusetts Institute of Technology
Marsha Wisely, Missouri S&T
He also recognized the Donald F. Othmer Sophomore Academic Excellence Award, which is presented to one student in each student chapter for the highest scholastic grade point average during his or her freshman and sophomore years. This year nearly 60 students earned the prize.
In addition, 40 Freshman Recognition Awards winners were acknowledged. Recipients of this award are individuals from a student chapter who have been most active in freshman year.
SACHE & Safety and Health Division awards
Wendy Smades, chair of Safety and Chemical Engineering Education Committee (SACHE), took the podium next. Each year, SACHE awards prizes to teams whose submissions to AIChE's Student Design Competition best apply appropriate principles of chemical process safety. This year the Jack Wehman SACHE Team Design Award was presented to Kyle Kubat, Taylor Mallott, and Darren Youngs of the University of Iowa.
The AIChE's Safety and Health Division also recognized teams from each year's Design Competition entries that have made the most appropriate application of inherent safety in their design solutions. The Ted Ventrone, Ephraim Scheier & Walt Silowska Award was presented to the following teams:
Aury Keller & Greg Diefenthaler, Trine University
Tyler Boscoe, Robert Mauck & Mitchell Wyss, Trine University
Kyle Kubat, Taylor Mallott & Darren Youngs, University of Iowa
Matthew Burian & Tyler Manning, University of Iowa
Outstanding Student Chapter Advisor Award
This award, presented by Frank Bowman, recognizes an individual's outstanding service and leadership in guiding the activities of an AIChE student chapter in accordance with AIChE principles. The award is sponsored by ConocoPhillips, and this year it went to Professor John O'Connell from the University of Virginia.
Outstanding Student Chapter Award
This year 16 Chapters received the Outstanding Student Chapter Award.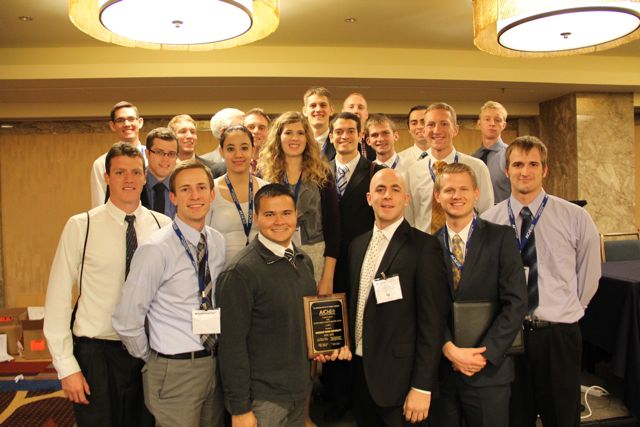 Those recognized were:
Brigham Young University (shown in photo above)
Bucknell University
Mississippi State University
New Jersey Institute of Technology
North Carolina State University
Oklahoma State University
Oregon State University
University of Illinois at Urbana-Champaign
University of Iowa
University of Kentucky, Lexington
University of Kentucky, Paducah
University of Michigan, Ann Arbor
University of North Dakota
University of South Florida
University of Utah
University of Virginia