Last week, local Houston reporters toured laboratories at LyondellBasell's new Technology Center next to the company's huge Channelview complex, which is expanding to take advantage of boom-time quantities of natural gas and natural gas liquids like ethane and propane, the major chemical feedstocks.
The company might not have relocated its new research and development (R&D) center to Texas before this era of cheap shale gas, said LyondellBasell CEO Jim Gallogly at the unveiling. But the lab walkthrough represents a stunning reversal. FuelFix writer Zain Shauk put Gallogly's remarks in context:
LyondellBasell emerged from bankruptcy in 2010 after a period of high oil and


natural gas prices. "In 2000, the chemical industry in the US was in very desperate times," Gallogly said.

Natural gas prices were much higher, causing prices for ethane and other (NGLs) to also rise. US chemical producers were losing competitive advantage against other parts of the world, which relied on oil-based naphtha. "Within months, the US chemical industry lost 30% of its market share,"Gallogly added.
During this bleak period, GE Plastics was sold to Saudi Arabi's Sabic in 2007 and Brazil's Braskem bought Dow Chemical's polypropylene business in 2011, making it the largest PP producer in North America.
Now with increased supplies of NGLs in the US, many companies, including LyondellBasell, have announced plans to increase capacity to take advantage of the low-cost feedstock. "We've had a phenomenal resurgence in the chemical world," Gallogly said.
Across the US chemical industry, companies are planning or building more than 90 projects costing a total of $72 billion because of cheap natural gas and other feedstocks, the American Chemistry Council reports.
State-of-the-art lab
During the lab tour, media spokesman David Harpole said that most of the new center's 80 employees had been hired locally, and 22 of them had moved to Houston after LyondellBasell closed its research site near Philadelphia.

He went on to say that the new lab's scientists are a highly "specialized group of individuals with a set of skills that makes them very valuable to our organization." They will focus on improving feedstock reactions to new catalysts, by trying to make them more efficient, require less energy, and ultimately, increase production. LyondelBasell's chemists already hold over 130-patents - and Spandex and Propylene Oxide are two of the company's greatest hits.
Ideally, immediate access to the lab's newest equipment will speed up research. For example, after mixing new catalysts, scientists can then fire X-rays at the materials to to test their reactions, or they can also use nuclear magnetic resonance to further confirm the molecular structure of the materials.
The center also has small-scale models of plants, which are still large enough to fill a small home. The models run chemicals through a series of steel tubes, hoses, reactors, and chillers to create chemical products and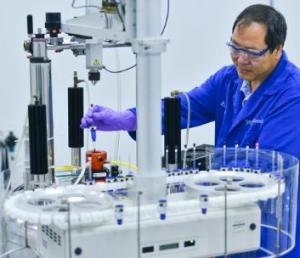 separate them from other materials.
Reporters were shown one pilot system where materials moved through two "chilling trains" to cool gases so that they could be liquefied and separated from products. "One is cold, another is very cold, " said Jared Fern, a research engineer at the center. The mini-plants will quickly show whether the new materials work, and how much they improve efficiency.
Improved productivity has meant putting the new facility right next to a company's plant, which makes applying new lab technologies much easier. "Working together, they have a much better opportunity to look at how the processes are running, and how we might work to improve them with new catalysts," Harpole said.