In 2011, I took a position with Mack Trucks, Inc., a manufacturer of American-assembled Class 8 heavy trucks with more than 100 years of history. Since then, I wish I had a dollar for every time I was asked the question "What is a chemical engineer doing working at a truck manufacturing plant?"
Considering that my entire seven-year career has been outside of the chemical industry, such a question seems reasonable. What is a chemical engineer doing here? From time to time, someone at work would catch wind of my area of study and ask me why their plastic parts are changing color or task me with a project that they think is chemistry-related -- but for the most part, folks don't seem to know what chemical engineers can do outside of, well, working with chemicals.
Furthermore, if, in fact, my jobs have been outside the traditional chemical engineering realm, why am I still a member of AIChE?
Staying connected to the ChemE community
I began my AIChE membership in the student chapter at the University of Virginia. When I landed my first job several states away, I realized that AIChE would be a great way to meet professionals in the new area and retain my connection to the chemical engineering community.
That first job, right out of college, was at Lutron Electronics, a designer and manufacturer of lighting control solutions, where I was hired as a project engineer. At Lutron, I found myself leading special projects for customers or handling changeovers, product transfers, or product launches -- and I worked my way up in operations.
As my career path diverged further and further from traditional chemical engineering, and I began to feel at home in operations, I never thought of terminating my AIChE membership. Meanwhile, at every AIChE Annual and Spring meeting I attend, at least one person asks me a variation on that familiar question: "You're a ChemE. What are you doing working there?"
I'll address that question in a moment. But, as to my AIChE involvement: As a young professional, AIChE has given me the opportunity to develop a variety of skills, from writing and communication to leadership. For example, at a local section meeting a few years ago, I heard about AIChE's ChEnected blog. I thought it was a great concept and immediately got involved by commenting on and writing articles. Blogging allows me to research and write about topics that interest me while improving my writing skills and giving me a creative outlet. Perhaps my favorite piece was "Artistic Chemistry: Photography," which expanded on a project I did for an anthropology course in college and merged my love of photography with that of chemistry.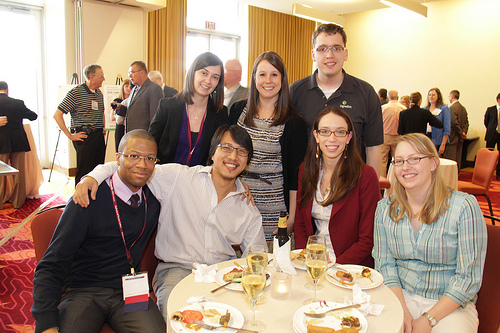 Shortly thereafter, I learned about the establishment of AIChE's Virtual Local Section (VLS) and its need for a logo. Eager to keep up the Photoshop skills I developed in college, I set out creating a design to enter into their logo contest -- the design that VLS is still using today on its website.
Soon after that, I attended the 2010 Annual Meeting in Salt Lake City, UT, where I first heard about AIChE's Young Professionals Advisory Board (now the Young Professionals Committee [YPC]). When I learned that the YP group was working to increase young professionals' participation in the Institute through national and regional programming, and that it was a great place to network with other engineers, I wanted to get involved. I started with the YP Publications Committee and used my ChEnected experience to upload posts and articles promoting and communicating about the Committee. I moved on to the vice chair position, taking on more leadership responsibility in coordinating and communicating with the subcommittees as well as other committees throughout AIChE.
Currently, I am the incoming Chair of YPC and am looking forward to another successful year. Coming up in November at the 2013 Annual Meeting, we will continue to offer great sessions and events geared toward YPs, including co-sponsored sessions and the ever-popular YP Social.
Where there are processes, there are ChemEs
Since I joined Mack Trucks, I have worked on lean manufacturing projects as well as new process and equipment installations. In my earlier job at Lutron, my projects often involved looking at entire processes, analyzing all of the pieces, and launching new products or systems that fit into the business and supported customers. Aren't most things in business just processes? Some can be exceedingly complex and some can be quite simple -- but they are still processes.
And chemical engineers own processes. We are trained and hardwired to look at inputs and outputs, and find solutions when those factors are not in balance. In my material-handling engineering work, I look at the flow of parts throughout the facility and work to improve layouts and processes so that the right parts go to the right place at the right time. With every truck consisting of at least 4,000 parts, that's a lot of processes.
So, what is a chemical engineer doing here? Exactly what I should be doing.
YPOV is a regular column in CEP magazine.