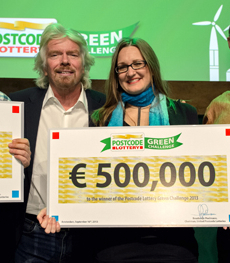 Firing kilns up to 2,000 degrees for three to five days, brick making requires a lot of energy and spews millions of tons of CO2 into the air. For millenia, it hadn't occurred to anyone to improve the traditional process that transforms clay, sand, and water into one of the world's most durable construction materials. At least until Ginger Dosier founded bioMASON.
Today, she grows bricks with the help of sand, water, and trillions of tiny bacteria. Her new-age process took years of trial and error (from a converted second bedroom) before she emerged with a sturdy, bio-brick in hand. She figures that by completely replacing the 1.3 trillion kiln-fired bricks made each year with her new bio-brick, the world could eliminate over 800-million tons of CO2 emissions.
Her living, bio-bricks require less than five days to form, and once dried, they're ready to be used. As for the bacteria, as soon as their food and water has been cut off, they simply die.
Recently, a jury chaired by serial entrepreneur and billionaire Richard Branson was so impressed by Dosier 's revolutionary CO2-free bricks that they awarded her first place and EUR500,000 from the Postcode Lottery Green Challenge for 2013. Dosier is currently working with teams in the US and United Arab Emirates to scale up her manufacturing process.