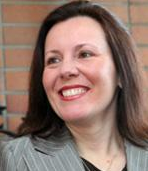 From men assuming she had a temper and could "blow at any minute" to being called "little lady," Isabel Escobar discusses the challenges of being a Latina woman in a male-dominated field.
Isabel Escobar is a professor in the Department of Chemical and Environmental Engineering at the University of Toledo, Ohio, and the interim assistant dean for research development and outreach for the College of Engineering. Escobar holds Ph.D., M.S., and B.S. degrees in environmental engineering, all from the University of Central Florida. In 2009 Escobar was awarded the Northwest Ohio YWCA Milestone Award for Education and the University of Toledo College of Engineering Outstanding Teacher Award. In 2011 she received the American Institute of Chemical Engineers Separations Division FRI/John G. Kunesh Award.
Learn more about Escobar's work experiences and what she says is the best advice she ever got for shaping an academic career in her audio interview below.
Click the play button to listen to her interview.
You can hear more interviews in this series from the Chemical Heritage Foundation here.