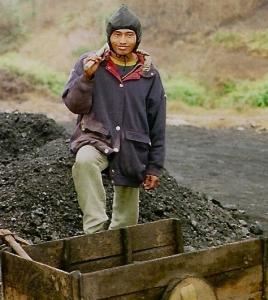 More than half a billion people suffered without power, as trains stopped and traffic snarled during India's crippling blackout in the summer of 2012, the largest electrical blackout in history. Coal India, the state-owned monopoly producing 90 percent of the country's coal, became the poster child for the nation's failed energy policy. This statistic sums up the dire situation:
The country faces an acute coal shortage. The projected coal demand in 2016-17 is about 980 million tons and the envisaged production to meet the demand is 795 million tons, leaving a gap of 185 MT.
And the 10.2 percent gap between demand and supply is growing.
But something shocking just happened. By introducing two new initiatives, Coal India has shaken itself out of a lethargy and suddenly exhibited the urgent behavior of a smaller, healthier company. Seriously.
It just launched an ambitious project to completely overhaul its mining technologies, beginning with a forensic probe by an international consultant (to avoid accusations of cronyism). The goal is the "...infusion of all major technologies"

throughout the company. Indian news site DNA called this an effort to bring about a paradigm change in productivity, which has been significantly hampered by outdated technologies.
Solar hitting grid parity
Coal India has also decided to set up solar power projects across the country. The coal giant is seeking proposals from solar energy companies to build the first 2 megawatt solar plant on land at its Sampalbur coal plant in Odisha. Later this plant could be scaled to export power to the grid.
Not only is Coal India pursuing commercial solar power plants, the company also wants to cut its own energy bills, so it's planning to install solar energy and mulling over adding rooftop solar panels at the Ranchi Central Mine Planning and Design Institute, where it does research. Later, the panels could also go on other "staff colonies" and in mining areas, with the goal of reducing the vast company's energy bills.
Coal India explained the reason for these moves in its bid document:
"India has an abundance of sunshine and the trend of depletion of fossil fuels is compelling energy planners to examine the feasibility of using renewable sources of energy like solar, wind, and so on."
Meanwhile there are many reasons solar could be a good fit for India: Since coal is highly polluting and in coal-fired plants are not currently sufficient to supply needed energy, the country's abundance of sun and tracts of flat, idle land means that solar plants may be a much wiser choice, as well as easier and faster to build than conventional power plants.
Coal's place in economy is still secure
Coal India is also motivated by government incentives;

and the fact that because the price of solar has dropped so dramatically in recent years, industry watchers say that Indian solar just hit grid parity.
But no matter how quickly companies like Coal India ramp up new wind and solar projects, coal's place in the economy is secure. Knowing that renewables will remain a small player for years, with chronic blackouts and rolling brownouts slowing the economy by as much as 1.2 percent, the government has also decided to allow power companies to pass on the costs of foreign coal to customers, a move likely to boost imports and investment in power generation, but bring higher energy prices to consumers.
Photo: Coal Miner,

Biswarup Ganguly

, Photo: Coal power plant,

Ashish.prajapati90

, Photo: Coal Miner,

RMehra

, Photo: Coal miner and coal,

RMehra

, Photo: Coal miner w coal in background,

Biswarup Ganguly