Infrastructure plays a crucial role in the energy market. For obvious reasons, energy development is divided among upstream, midstream and downstream. Although people extolling the technological revolution transforming the natural gas industry are usually talking about drilling breakthroughs, like seismic imaging, fracking or horizontal drilling, one ship, equipped with a cutting edge LNG regasification unit and known as a Floating Storage Regasification Unit could begin to overturn Russia's heavy-handed control of natural gas distribution in parts of Europe. Optimistically, the ship's Lithuanian backers have named it the Independence. After the the Independence is delivered in 2014, it will be anchored in the Lithuanian Port of Klaipeda and will process deliveries of liquefied natural gas into fuel for homes and businesses, while significantly reducing prices by giving the Baltic nation access to the world's LNG market.
The fight for energy independence
Lithuania gained its political independence from the Soviet Union in 1991, but the struggle didn't end there. To this day, Lithuania is still dependent on Russia for energy. The situation became worse after Lithuania closed its only nuclear power plant in 2009 to gain membership in the EU. So now the small nation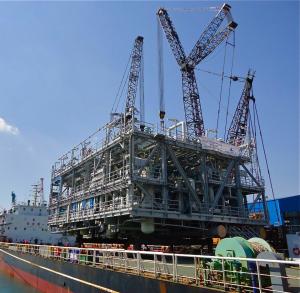 of three million relies almost entirely on natural gas and petroleum imports from Russia, whose natural gas stranglehold has reached 100 percent. The price of natural gas in Lithuania was 15 percent higher than the European average last year, according to the European Commission. Only Bulgaria, where Russia's Gazprom has a near monopoly, paid more. Neither nation has any bargaining power. How does this ship help to revolutionize the energy market? Unlike onshore counterparts, FSRU terminals are mobile and can operate on a leasing schedule. This means contracting nations are spared the large up-front development and construction costs of onshore terminals, making smaller payments instead. Significantly, the ships can also be built at half the cost and in half the time as traditional onshore plants, which are important concerns to a small country like Lithuania. While an equivalent onshore plant would have cost about $1 billion, Lithuania's state-controlled oil terminal operator, is leasing the ship from a Norwegian company, Hoegh, in a 10-year deal for 430 million euros, or $560 million. A South Korean shipyard has nearly finished building the ship. The work is expected to be completed in February and the ship is expected to arrive in Lithuania in November. The Independence leaves dry dock in South Korea in the clip below:

FSRUs, which are basically modified LNG tankers, can store a large amount of LNG while operating just like an onshore regasification plant, transforming the LNG so that it can be pumped into the regular distribution network. As a part of the natural gas revolution, FSRU technology is relatively new; the first ship of its kind was retrofitted from an old LNG tanker in 2008, and the first new FSRU was inaugurated in 2011.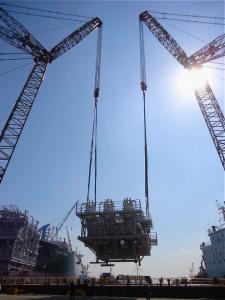 The FSRU Lithuania is leasing is capable of regasifying 11 million cubic meters of natural gas per day. Over the course of a year, the ship could process more than 4 bcm of natural gas -- 25 percent more than Lithuania's annual consumption -- though the current contract stipulates a 1 bcm annual output by 2014.
New LNG suppliers
This will allow Lithuania to reduce its dependence on Russian natural gas by nearly 50 percent. It will also give Lithuania (and any other country that pursues the same path) greater leverage in negotiations with Russia. New LNG suppliers could include Norway and the United States, where, during a recent visit to Washington DC, Lithuanian President Dalia Grybauskait? encouraged officials and legislators to lift restrictions on exports of natural gas produced from shale, and to prioritize sales to countries that, like Lithuania, are members of NATO. "The United States is Lithuania's important partner in energy security. More favorable conditions for the U.S. gas exports to Lithuania and other NATO member states would allow us to ensure the diversity of energy supply sources and competitive prices of gas to the people of Lithuania," President Grybauskait? said in a press conference. She noted US gas is two times cheaper than gas in Western Europe and almost four times cheaper than gas in Lithuania. Legislation to facilitate the issue of permits for exports of natural gas to NATO allies is currently under consideration in the U.S. Congress. Two years ago, Lithuania signed a memorandum of understanding with the US energy company Cheniere Energy for LNG exports to Lithuania.