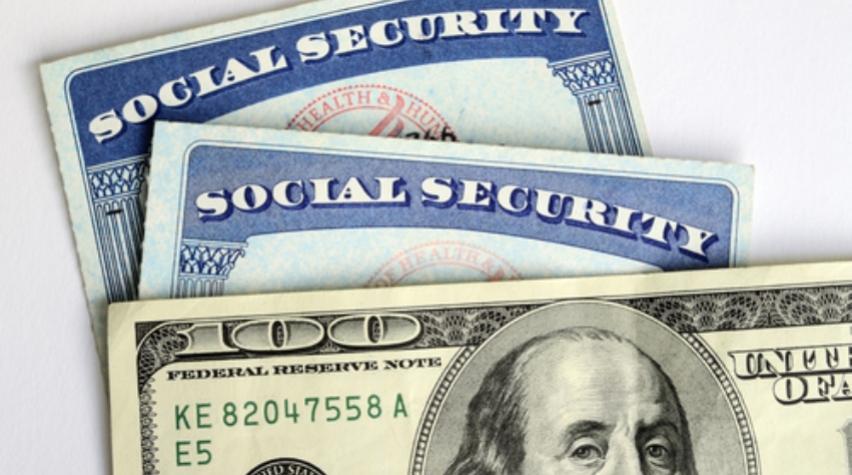 CEP's Chemical Engineering Progress biennial salary survey is presented in the June 2013 issue. Look for it in print, on AIChE.org/CEP, or on a future post here. In addition to questions about facts, figures, and demographic data, respondents were asked three open-ended questions, two of which covered retirement and health care benefits. (For open-ended questions on general state of chemical engineering employment, see this post.)
Goodbye pension plans (mostly)... The trend clearly has moved towards eliminated pensions, but some companies do continue to offer them, while often for a limited number of employees. Likewise, for those who still receive a pension, adjustments downward were often made to benefits. Most often, when pensions were eliminated, they were replaced with the near omnipresent 401K plan.
"Defined pension plan remains available to existing employees, but is not provided to new employees as of 2012." "Announced that they are phasing out traditional pension in 2017." "Change multiplier for pension form 1.6 to 1.2." "My employer has now discontinued a pension plan to replace it with a larger contribution to my 401k."
Surprisingly, a very small number said their company "added a pension," to the envy of many of us.
...hello return of benefits and new 401K options
For some employees who saw a major dip in retirement benefits and options, it seems that 2012 brought welcomed increases, which is a great trend to see.
"Decreased in 2011, brought back up to previous level in 2012" "Company match for 401k was suspended for one year. Has restarted this January." For employees who saw additions to their retirement plan options, a good number noted "Added a Roth 401k option.
Here's a word cloud that graphically represents retirement plan responses by number of occurrences of top words: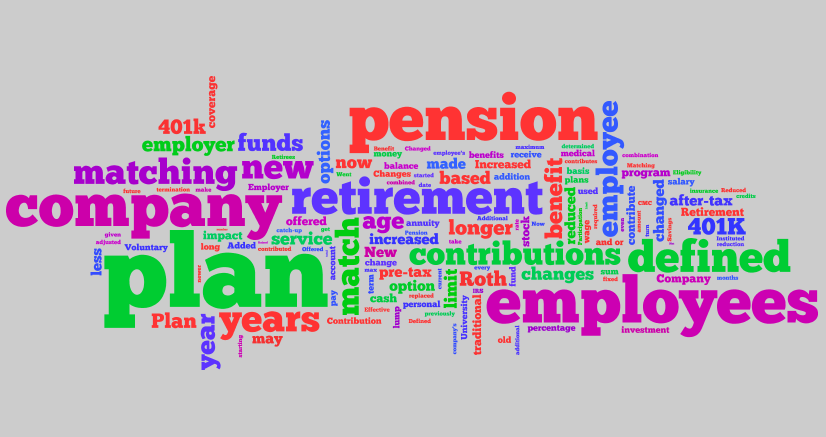 HEALTH BENEFITS
Welcome Heath Savings Account (HSAs)
Many saw changes in their health benefits this year. Among them, many noted the arrival of an HSA, as well as high-deductible options. Some noted that high-deductible plans were not the option, but the new norm.
"Added Health Savings Account option and option for higher deductible health care insurance" Health care insurance has gone to high deductible model." For many, employers "changed providers," whether for dental or general medical insurance.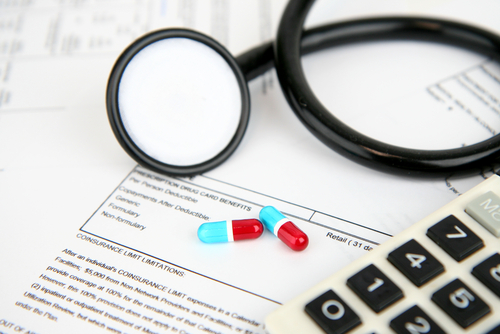 Coverage down, cost up for many The trend for many, unfortunately, seemed to be reduction of benefits with increasing costs, though to various degrees:
Coverage and employee contribution amounts." "Employee cost has gone up."
Positive changes for a number of respondents
Yet the trend wasn't so for all. Some certainly saw positive changes this year, with expanded coverage or benefits:
"Expanded benefits. Minimal cost of coverage increase." "Expanded coverage to domestic partners."
Wait, what's changing and how?
Most of us at one point or another have been exasperated by understanding coverage and changes. One respondent expressed this sentiment humorously:
"You must be kidding. These are too complicated to describe. We are lucky to understand them."
Here's a word cloud that graphically represents health care benefits responses by number of occurrences of top words: