While Canada is betting that carbon capture and storage (CCS), a technology that is fairly well understood, will eventually reduce the environmental footprint associated with making fuel from oil sands, one of the country's largest oil-sands producers is building an algae bioreactor to recycle CO2 to produce biofuels and other products such as fertilizer. Canadian Natural Resources Ltd. (CNRL) is working with Toronto startup Pond Biofuels on a $19-million pilot project that will use industrial flue gases from its Alberta processing plant to feed algae in a biorefinery unit.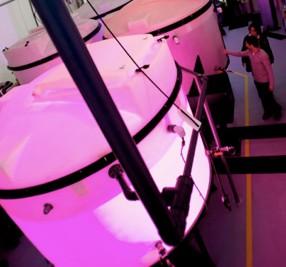 According to CNRL, the project could reduce emissions at the oil-sands site by as much as 30 percent. Steve Martin, Pond Biofuels' CEO and unabashed algae proselytizer, told the CBC News that it's not enough to hide carbon underground, as you would with carbon capture and sequestration. You need a way to fix the carbon in place. "And the only thing that does it, to my knowledge, and does it easily and quickly and wants to do it, is algae. Algae enjoys this. This is what its business is," he adds. John Parr, Vice President of Thermal Projects at Canadian Natural, says the concept is simple. "We will put carbon dioxide and waste heat from our oil sands facilities into large tanks with algae and treated waste water and create photosynthesis. We will then press the algae to release the bio-oil that can be used for jet plane fuel or blended into our heavy oil or synthetic crude oil." Companies around the world have been experimenting with algae to divert carbon dioxide from smokestacks. But this new project will be the world's largest, closed biorefinery attached to an industrial facility, and it comes as Canadian oil-sands producers face opposition from environmental activists and increasing regulatory burdens.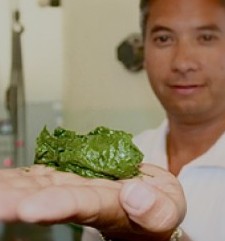 Cement flue gases were an ideal testbed
Founded in 2007, Pond found its first algae production partner in 2009 when the company St. Marys Cement set up a pilot project at its plant in St. Marys, Ontario. Pond found the perfect environment to test its technology: cement manufacturing is one of the most carbon-intensive industries in the world. For every 100 tons of cement made, 83 tons of CO2 are created. Watch a short video shot at the plant:
Pond Biofuels has filed 10 patents covering its technologies and systems. According to Pond Biofuels Project Manager Jaime Gonzalez, unlike most traditional algae bioreactors, Pond's system uses high-efficiency LEDs. "We use these LEDs to produce wavelengths of light that algae use for photosynthesis," he said. LEDs, however, aren't the only source of light energy the technology employs.
Increasing energy efficiency
"To be even more energy efficient, we also use solar light during the day," Gonzalez told Biodiesel Magazine. "We filter it so we don't have to transmit all of the solar spectrum into the bioreactors. We only transmit the wavelengths that algae need." Pond Biofuels has also designed its system to use waste heat from industrial hosts to dry the algae. Pond Biofuels' relatively compact system is also more suitable for co-location with industrial hosts, because its bioreactors require far less land than open ponds. The pilot project began three years. Martin said the next step is construction of a full-scale plant in 2014 that would create 20 to 45 full-time jobs. The full-scale plant will draw 30% of all the smokestack emissions from St. Marys Cement and produce as much as 25 million litres of biodiesel fuel and 225,000 tons of algae biomass annually, "The biomass burns with the same energy as coal. We take carbon from the smokestack and grow a replacement for fossil fuel," Martin said. The project also turns a liability into a profitable asset for St. Marys Cement. The full-scale plant would be the largest biodiesel plant in Ontario. Also the liquid and solid fuels produced by the algae are in high demand from coal-fired generating plants looking for green alternative fuels.