By: Lauren Uffelman, Lehigh AIChE Student Chapter member
ChEnected gave an earlier brief report of this event from the local press, but Lauren Uffelman of Lehigh's AIChE Student Chapter brings us a full account and photos of the event.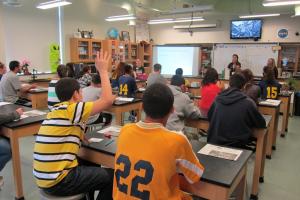 In an effort to cultivate an early interest in science, math, and engineering in middle school students, Lehigh University's AIChE student chapter recently held a successful interactive science and chemical engineering outreach event at Broughal Middle School in Bethlehem, PA. The inspiration for the event stemmed from the desire of the Chapter's executive board to make a fresh and broad impact on their community.
The event was part of the highly impactful CHOICES program, which was created in 1998 to introduce middle school girls in the greater Lehigh Valley to engineering and science, and it has been worked with Lehigh's College of Engineering and Applied Science now for more than a decade. "CHOICES, run now by the Society of Woman Engineers (SWE), started out as an AIChE outreach program. We wanted to start something with the same impact and longevity," noted senior, Kristen Becht, President of the Lehigh AIChE student chapter for the 2012-2013 academic year.
In it outreach effort on April 19, Lehigh's AIChE chapter partnered with science teacher Lori Cirucci in reaching out to both male and female seventh grade students. Motivation for the event derived from the Chapter's recognition of the importance of stimulating technical interest at this critical developmental stage. The outreach effort was held at the newly constructed state of the art Broughal Middle School adjacent to Lehigh's campus.
Hands-on demonstrations bring science to life
The students filtering in and out of the classroom with the changing periods the day of the event were excited to find a set of unfamiliar faces in their science class. During each class period, the Lehigh AIChE students delivered presentations highlighting fundamental concepts in chemical engineering spanning reactivity, catalysis and polymerization to miscibility, hydrophobicity, and separations.
Demonstrations and hands-on experiments were carefully designed to engage students and demonstrate and reinforce each new concept. One of the most dramatic of these was a demonstration of chemical reactions and catalysis to produce so called "elephant toothpaste." The experiment, one that is simple but yields big results, combines dish soap, hydrogen peroxide, and potassium iodide in a large graduated cylinder, resulting in a mass of foam (resembling toothpaste) pouring out of the top of the cylinder. Food coloring provided just the right touch for the students to design their "flavor" of toothpaste. The concept of concentration was also introduced and reinforced using the same experiment, this time with a more concentrated peroxide solution. As the students predicted, the foam explosion was even more dramatic.
Other concepts introduced included miscibility and hydrophobicity demonstrated by the simple separation of surprisingly dry hydrophobized sand after its mixture with water, and polymerization. The latter subject was demonstrated with a homemade silly putty activity, providing each student with the chance to get their hands dirty and to literally touch a chemical reaction. Borax detergent, cornstarch, glue, water, and lots of mixing yielded a goo that could be stretched, shaped, smashed, and squashed. Students loved this hands-on activity and were excited to take their creations home with them. One student expressed such excitement, saying "I thought this was a fun class. I loved the experiments. My personal favorite of the day was making my own silly putty."
Early exposure can affect career choices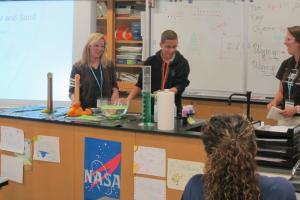 In the midst of the demonstrations and activities, the AIChE students also dedicated time to highlight STEM fields with the belief that it is never too early to become serious about career choices. The middle school students were introduced to the wide range of opportunities available to college undergrads in STEM fields. The success of the event was embodied by the comment of one student who said, "I never thought I could actually enjoy science!" Cirucci also added that, "This one day will have a lasting impact when my students go on to the high school and start becoming more serious about their career choices."
An added benefit of the event was that its impact extended beyond the Broughal Middle School students to include the AIChE students themselves. The AIChE executive board pointed out that "participating in teaching a class about the field you are about to embark on is extremely beneficial to both your educational and personal development."
Funding for the event came from ExxonMobil, a company with which Lehigh's Department of Chemical Engineering has a long-standing relationship. "We really appreciate the generosity," states senior Lauren Uffelman, the Treasurer of Lehigh's AIChE chapter. "Funding is one of our organization's most crucial tasks; we are beyond grateful for ExxonMobil's support." The Lehigh AIChE's outreach event successfully leveraged ExxonMobil's generosity and the company's long-standing support of community and development initiatives.