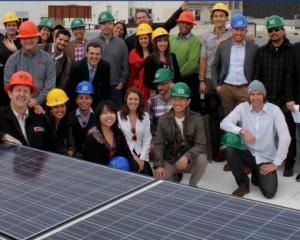 The cost of solar power has dropped 80 percent in the last five years, making it competitive with fossil fuels in several states, or even cheaper in special cases like Hawaii. However, project financing, which has been largely confined to utility-sized projects backed by banks or institutional investors, remained a bottleneck for rooftop solar.
Arriving in a wave of financial innovation that included Kickstarter and Kiva, California-based Mosaic developed a new crowdfunding model to finance solar energy. Early efforts were so promising that in 2012 Mosaic was awarded $2 million from the US Department of Energy (DOE) SunShot Initiative to help reduce soft costs (financing and customer acquisition), which make up 25% of the total cost. In the video, listen to Mosaic CEO Billy Parish's vision for solar energy.

Lower interest rates than banks
Last January, when the company finally opened projects for investment by the public in New York and California, 335 people invested more than $225,000 on Mosaic's web platform at JoinMosaic.com. Parish's goal is "getting millions of people tangibly invested in building the clean energy future."
Here's how Mosaic works: listing projects through its online marketplace, investors can check out various offerings. They can contribute as little as $25 to a project. When the systems are up and running and selling electricity, the backers are repaid with interest.
"We are able to source capital from the crowd and lend that capital to solar developers at lower interest rates than they would get from banks,"Parish told Bloomberg.
Since all of mosaic's projects are fully subscribed, the startup's biggest challenge will be supplying enough investments to sustain the momentum created with the first public launch.
Images: various, Mosaic