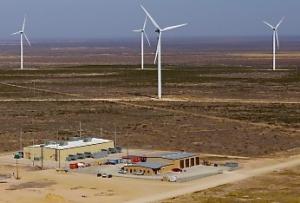 Last December, a small, wind-swept west Texas town became the site of an important grid milestone (while briefly stealing the limelight from the state's dramatic oil resurgence): North Carolina-based Duke Energy commissioned the largest battery storage project in the US at its 153 MW Notrees wind farm, where it can now store and manage 36 megawatts (MW) of energy for 10,000 homes (press release).
This industrial-sized battery technology is crucial as the often-unpredictable wind becomes a larger and larger power supplier to the grid. So whenever wind farms generate more electricity than the grid can handle - or suddenly idle and stop as the breezes flag - the stored and quickly dispatched energy can smooth over any intermittency.
Navigant Research says 56 gigawatts of long duration grid energy storage will be installed from 2012-22. Ancillary services alone (scheduling and dispatch, reactive power and voltage control, system protection) will increase more than tenfold to surpass 3.5 GW in that timeframe.
"Battery storage is an important innovation to address the variability of wind and solar energy generation," said Duke Energy Renewables President Greg Wolf in a press release.
An innovative, small Texas startup
Just two years after the Duke Energy entered the wind sector in 2007 by acquiring Texas-based Tierra Energy, the Notrees battery project began in 2009 when Duke matched a $22 million grant from the US Department of Energy (DOE).
The battery storage system was engineered and installed by a small Texas startup, Xtreme Power, which will continue to operate the system. It is a scalable assembly of

thousands of Xtreme Power's proprietary PowerCell batteries, a dry cell based on a formula of alloys, including copper, lead and tellurium, which form bi-polar plates to provide a massive nano-scale surface area for the chemical reaction, resulting in extremely low internal resistance.
This chemistry allows the system to store energy like a conventional battery but with the quick "stop-and-go" capabilities of a capacitor. So it can function as a high performance energy management system as well as a storage system. Another advantage over competing batteries: materials in the PowerCell are not classified as hazardous and are easily recycled.
Xtreme's versatile batteries are also backing up wind power projects in Hawaii and Alaska, as well as smaller-scale projects backing up community solar power in Texas and elsewhere. Most of those installations also run on Xtreme's own battery management system (BMS), which does everything from monitoring battery capacity and performance to managing the dispatch of stored power to meet grid energy market demands.
Xtreme Power has always insisted that it's not just a chemistry shop, but a total grid storage solution, including the elegant software to make it all run smoothly. And General Electric agrees.
Getting out of the battery business
GE chose the Austin startup's "Xtreme Active Control Technology" (XACT) and will use it to integrate GE's own line of Durathon batteries into grid applications. By any measure, this is a big a vote of confidence in Xtreme's battery management system (BMS) expertise.
But now there's a new chapter in the Xtreme story. The company is getting out of

the battery-making business to focus on a less capital-intensive field - building and managing the software platforms that integrate these expensive batteries into the grid.
Xtreme CEO Alan Gotcher told writer Jeff ST. John at Greentechmedia that Xtreme plans to sell the company's battery factory in Oklahoma, and already has a letter of intent from a buyer.
When the new buyer restarts the plant, it will become another customer for Xtreme's Active Control Technology (XACT) software. Over the past year, Xtreme has signed up two other battery makers to use its grid-integration software: General Electric for its sodium-metal Durathon batteries, and Samsung SDI for its grid-scale lithium-ion batteries.
Xtreme isn't abandoning its own battery chemistry, Gotcher said. It's simply dumping the most capital-intensive part of its business, building, selling and financially backing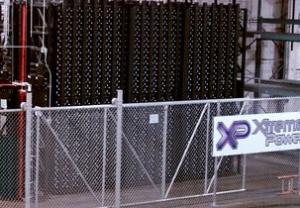 the batteries themselves, he said.
"It takes a lot of capital to run a battery factory," Gotcher told Greentechmedia. "Selling it to a third party reduces the capital appetite for Xtreme Power." But he also insisted that the sale wasn't meant to plug financial holes in the startup.
"It really helps us a lot," he added. "It reduces our need for capital, and from our point of view, it means our cash flow will turn positive, probably a year or so earlier." Xtreme, which has raised about $55.7 million since it was founded in 2004, now expects to reach profitability in late 2013 or early 2014.
Images: Wind turbines, Energy.gov; batteries, Xtreme