By Warren D. Seider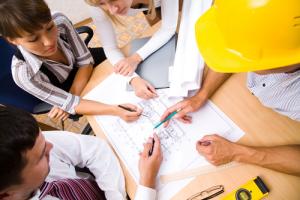 Conceptual process designs are normally the work of chemical engineers, but chemical products are increasingly designed by teams of chemical engineers working with materials, bio, mechanical, electrical, computing, ..., and systems engineers. Consider, for example, a lab-on-a-chip for high-speed screening of millions of potential kinase inhibitors daily that involves PDMS soft polymer, photolithography, emulsion guns (producing water droplets at 20,000/sec), enzyme kinetics, phosphorescent light transmission, CCD cameras, and computation to determine IC50 concentrations. Or thin glass substrates for LCDs involve Ba silicates, compatibility with thin-film Si transistors, low coefficients of thermal expansion, resistance to HF used for etching, low scattering in light transmission, and thickness control of large thin-glass sheets.
In short, most novel products incorporate the latest technologies to satisfy customer needs. Multi-layer thin films engineered to be touch-sensitive, for example, provide touch-sensitive surfaces on the displays of smart-phones. In designing these products, engineers create working prototypes to demonstrate their potential. Then, when potential customer responses are good, careful attention turns to the manufacturing train (i.e., process design).
Capstone design conference: Where are all the ChEs?
At a recent conference at the University of Illinois, Champagne/Urbana (June 2012), on capstone design courses, many faculty described their interdisciplinary design project courses. Often, individual design projects are commissioned by companies who provide grants on the order of $10,000. These funds cover the costs of design teams, including trips to visit the project authors at their companies, purchases of supplies for prototype construction and testing, and presentations of results at design competitions.
Typical projects involved the design of biohybrid solar cells, on-chip bacterial detection and diagnosis products with integrated mechanical micropump, and fatigue-testing machines for use with ceramic materials.
Most notable was the absence of chemical engineering students from nearly all of the design teams. We were conspicuous by our absence.
Consider also a recent survey of ChE design instructors who responded to questions regarding the subjects covered in senior-level design courses. Not unexpectedly, process design subjects received dominant emphasis and product design subjects often were not covered.
ChE curricula
As a possible explanation, typical ChE curricula in the U. S. begin with material and energy balances, move to thermodynamics, then fluid mechanics and heat and mass transfer, followed by separations, chemical reactors, and process design and control. All of these subjects are more closely related to process design. The coverage usually involves nearly ideal thermodynamics, Newtonian fluids, equilibrium stages, idealized reactors (plug flow, totally back-mixed), and simple chemicals. Because most engineering-science curricula don't involve more complex technology platforms, the basis for modern product designs, most ChE seniors design processes that produce simple chemical products. They use process simulators, for example, ASPEN PLUS, and estimate the costs and profitabilities of their processes. Unlike most interdisciplinary design teams, they rarely design prototype products.
Increasingly, ChE Departments are creating product design courses, but very slowly. Two excellent textbooks are available (Cussler and Moggridge, Chemical Product Design, Cambridge Univ. Press, 2011; Wei, Product Engineering, Oxford Univ. Press, 2007), and one book focuses on both product and process design (Seider et al., Product and Process Design Principles, Wiley, 2009). But, few chemical engineering seniors do product design projects.
Will this situation gradually change? ChE research at universities is at smaller length and time scales. Young faculty are less concerned with commodity, or even small batch chemical processes. Their new technologies, involving bio-nano materials, colloidal structures, microfluidics, ..., are aligned toward chemical products. As design faculty retire, will their replacements focus on product design? Will their graduates better satisfy the needs of product-oriented companies like 3M, GE, P&G, and the like?
Warren D. Seider is a professor of chemical and biomolecular engineering at the University of Pennsylvania and has a long history with AIChE. He was elected as a Fellow of AIChE in 2005 and as a Director of AIChE in 1983, and he is currently a member of the Editorial Advisory Board of Computers and Chemical Engineering. You can read a complete bio here.