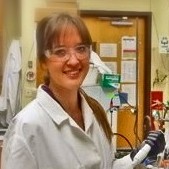 After four years of intense undergraduate multi-tasking inside and outside the lab, Rebekah Scheuerle, a University of Texas chemical engineering senior, received a full Gates Foundation scholarship to Cambridge University so that she can continue her research into efficient and affordable drug-delivery methods.
Scheuerle is one of only 39 U.S. students to receive the highly competitive scholarship. With its strong emphasis on leadership, requiring "...evidence of leadership expressed in a multitude of ways," the scholarship is a perfect fit for the committed UT grad.
While researching ways to deliver disease-fighting proteins to pinpointed sites in the body, and submitting two research papers, Scheuerle mentored fellow engineers, served two terms as president of the student chapter of the AIChE (doubling meeting attendance), helped to interview and evaluate potential new faculty, organized local food pantry drives, and still found spare time to play in the Longhorn Band. Once at Cambridge, friends say that she'll finally be able to settle down, relax and focus on her research.
Improving healthcare globally
"Promising therapeutics for many diseases -- including some cancers and HIV -- already exist,

but a lack of drug delivery methods prevent the treatment of millions of people," Scheuerle said. "At Cambridge, I look forward to developing affordable therapeutics that can improve healthcare globally."
Nicholas Peppas, the professor who supervised Scheuerle's undergraduate research, said he selected her to work in his lab because she wanted to use research to help others. "She said, 'I want to do something for society, I want to do something that will have an impact.'"
Peppas felt that Scheuerle stood out from most of the other students he'd seen over the years. "I would consider her to be one of the 10 best."
While at Cambridge, Scheuerle will enjoy working with professor Nigel Slater, as his research group develops purification strategies for biopharmaceuticals, as well as biopolymers for targeted intracellular drug delivery.
The Gates Cambridge Scholarship program began in 2000 with a $210 million donation from Bill and Melinda Gates and has supported 1,074 scholars from 94 countries.
Photos: Rebekah Scheuerle, UTexas