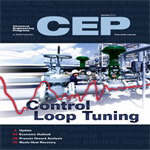 Chem Economics: Shale Gas Brightens Outlook for U.S. Chemicals
The chemical industry will experience moderate growth over the next few years -- ranging between 2.2% and 4.6% through 2017. The higher growth rate accounts for new investments announced in response to the abundant supply of shale-based natural gas.
Back to Basics: Implement an Effective Loop Tuning Strategy
Use these loop tuning guidelines to improve process control and enhance product uniformity.
Safety: Streamline Your Process Hazard Analysis (click here to read this article now)
A little creativity during preparation -- developing checklists, grouping similar processes, pre-populating worksheets, and considering possible deviations and safeguards before meeting face to face -- goes a long way toward improving the efficiency and effectiveness of your PHA efforts.
Heat Transfer: Optimizing an Organic Rankine Cycle
An organic Rankine cycle (ORC) system can be a cost-effective way to convert waste heat to electricity. The key is finding the best ratio of net power recovery to capital cost.
News: Global Relationships Take Center Stage at the 2012 Annual Meeting ... No Boiling Needed: Nanoparticles Convert Sunlight into Steam ... Hydrogen Power Goes Mobile ... Carbon Nanotubes Team Up with Graphene ... New Process Brings Bendable Electronics Closer to Reality ... Injectable Hydrogel Toughens Up ... Algae Produce Low-Cost Designer Drugs ... Tiny Metal Cubes Make Big Promises for Solar Cells ... New Process Turns a Greenhouse Gas into a Useful Reagent ... AIChE Journal Perspective: An Engineering Roadmap for Biorefining
Plus: What's New ... Product Digest: Valves ... Software ... Process Safety Beacon: Answers to the November 2012 Beacon Find the Problem Contest ... Books ... Institute News: President's Corner; New Fellows; Member News; Calendar ... YPOV: "A journey of 26.2 miles begins ..."
The January 2013 issue of CEP is now available online. AIChE members receive access to CEP, including a searchable archive of issues dating back to 2001, online at http://www.aiche.org/cep.