T. Boone Pickens wants you to know that if that long-haul truck barreling along the freeway next to you seems quieter, no, your mind isn't playing tricks on you. It's a good bet the truck's fueled by liquid natural gas, and you've just witnessed a small part of Pickens' grand, over-arching energy plan.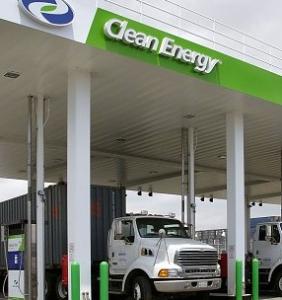 Although rarely used, natural gas vehicles aren't new, just overlooked because they've been impractical. But the drilling boom, accelerated by companies like Chesapeake Energy, unlocked such vast reserves of natural gas and created such a huge supply glut it forced them to find new markets just to survive rapidly falling energy prices. Fortunately, with the price spread between diesel and natural gas bobbing around $1.40 a gallon, these companies can now target diesel transportation to boost demand for natural gas buses, shuttles, delivery and long-haul trucks. Unfortunately, they still have to get that cheap fuel from the well into the tank - with a still non-existent distribution system.
Chesapeake Energy invests $150 million
That brings us to back Mr. Pickens, a charming master salesman and 82 year old, telegenic TED Talk energy star, who smells a lucrative market and has a tempting offer for the struggling industry: since natural gas is so cheap (much to your chagrin), providing big savings for fuel guzzlers - especially long-haul trucks - and since I'm already building a nation-wide network of LNG fueling stations along the interstate - which I personally rebranded "America's natural gas highway" - I'm now looking for partners to help enlarge my national footprint.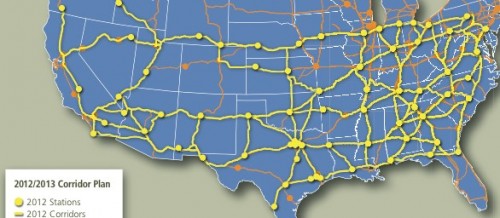 Which leads us back to Chesapeake Energy, the nation's second largest natural gas producer, still reeling after being severely battered by low prices. After selling assets, closing wells and switching to oil and gas liquids production, the company will invest $150 million over three years in Pickens' Clean Energy Corp., which just finished building its first 70 LNG refueling stations; and Chesapeake's (if-you-build-it-they-will-come) investment will help drive that number to 150 by the end of 2013. Which finally leads us to GE and CEO Jeff Immelt. Pickens just announced Clean Energy Corp would buy two MicroLNG plants from GE Oil & Gas, each capable of producing 250,000 gallons of LNG per day to support the next leg of the "natural gas highway." While LNG is more expensive than compressed natural gas, it is still far cheaper than diesel and provides the same driving range and power, gas advocates say. Although natural-gas-powered trucks cost around $40,000 more, owners can make that up in less than two years, because switching to LNG can cut fuel costs more than 25 percent, while reducing greenhouse gas emissions.
Large engine manufacturers are building LNG engines
"This is important for GE to join Clean Energy in changing the way America drives," GE Chairman and CEO Jeff Immelt said. "It's also a critical step in developing a natural gas-for-transportation fuel model that can be easily exported to other countries." The largest U.S. conglomerate sees liquefied natural gas equipment becoming a $1 billion market over the next five years. Watch a short GE CGI demo, above. These first two MicroLNG plants are designed to expand up to 1 million gallons per day as demand increases. Clean Energy Corp also plans to use the GE modular design to build additional plants.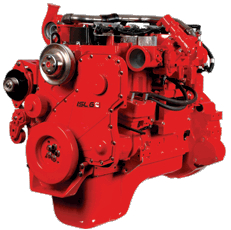 The LNG produced by the new plants will be used at Pilot-Flying J truck stops that serve truckers all across the country, becoming part of a larger informal network, which will include another 100 stations Shell Oil plans to build. So much interest has been building among long haul truckers, large engine manufacturers, such as Cummins, Peterbilt, Caterpillar, and Navistar are building LNG engines, according to Forbes. Navistar says 1 in 3 of its new engines will soon run on natural gas. If this trend takes off, total LNG demand for fleets and long-haul trucks could equal up to 20% of today's natural gas consumption by 2030.