Why does overcast and cloudy Germany dominate European solar while sun-drenched Saudi Arabia lets this unlimited resource simply fall unused to the ground, squandered? Far-sighted Saudis want to change that, and while the country will continue to be the world's top oil producer, they've urged the Kingdom to adopt a new two-pronged, two-energy strategy: developing the country's limitless solar power. Eventually, after overcoming technical hurdles, they say that surplus electricity could be profitably sent to the African grid, then under the Mediterranean Sea to Europe by long distance, high-voltage, direct current cable.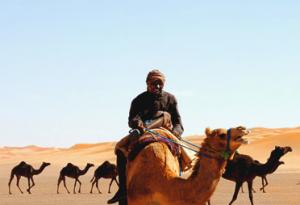 If that sounds like wishful thinking, last Spring's $109 billion commitment to move the country (with a big assist from nuclear) to renewable energy in 20 years by producing 41,000MW of solar energy - one third of the nation's energy needs - gets the power conceptually half way to Europe. So a Saudi prince can dream... Saudi officials told the Financial Times recently that someday Europeans will flip their lights on, unaware that the power was flowing from vast solar arrays thousands of miles away. But that's idealistic, long-tern thinking; the Saudis have to solve their domestic energy problems first, since they currently only generate a meager 3.5 megawatts of solar power today.
Racing a demographic tsunami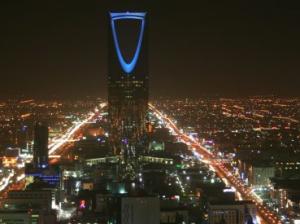 Suddenly feeling vulnerable to economic turmoil and social upheaval, alarm circulated among the Saudi elite after a study revealed that surging domestic energy use was growing so quickly (7% year on year) that the country risked becoming a net energy importer in 20 years, which could even threaten its oil producing role in the global economy. It turned out that high residential demand fueled by constant air conditioning and an America-style car culture in sprawling cities like Riyadh, home to over 5 million people, consumed one quarter of the 2.8 million barrels of oil produced every day. Conservation was the first mandatory step.
The Saudis stopped building new oil-powered desalination plants, because, while the 
Kingdom generates 26,300 MW of electricity, 2,800 MW is used to power 30 desalination plants, so water (and the lack of it) was burning up 1.5 million barrels of fuel oil every day.
Ditching "
black gold and Texas tea,
" the Kingdom is finishing the world's largest solar-powered desalination plant in the city of Al-Khafji, near the border with Kuwait, using concentrated solar photovoltaic (PV) technology developed by IBM and Saudi scientists.

Once the plant fires up this December, it will produce enough fresh water for 100,000 people; several more solar-powered desalination plants will be built over the next 10 years. In the future, it will be much easier to add new desalination plants now that the Kingdom has reached an agreement with
two Japanese companies
to construct a $352 million plant in Saudi Arabia to build state-of-the-art reverse osmoses equipment. This giant facility will be the first to manufacture this crucial technology in the Middle East. It will also bring new jobs to the country, helping it to slowly diversify away from oil dependency. Residential solar has been ramped up too. Last spring, the world's largest roof-top
solar thermal plant opened
was built in Riyadh. It will generate enough power to heat water for the university's 40,000 students. The Saudis also signed a $1bn deal to supply the Moroccan government with electricity from a 160MW solar thermal plant they built with Spanish co-partners. In the meantime, they've invested in a polysilicon refining plant, which is necessary for producing the Kingdom's own solar modules.
The energy export vision
During the latest UN climate change summit in Doha, Khalid al-Suliman, vice president at the King Abdullah City for Atomic and Renewable Energy, said that work on the country's first utility-scale solar farm is ready to start, according to the Guardian. It's on schedule to begin feeding power to the grid by 2015, the first milestone on the path to delivering 41GW of solar power by 2032. Saudi Arabian officials have also been discussing connecting the Gulf's grid to Desertec (website), a German initiative that sees North African countries transmitting electricity from solar-power plants to Europe, said Adnan Amin, head of the International Renewable Energy Agency, based in Abu Dhabi. According to the Financial Times, he gave some insight into Saudi Arabia's goals:
"They started thinking they have the possibility of connecting the grid quite easily to Egypt, and if you get the connection to Egypt then you can connect to the North African grid and if that's connected into Europe, you have a motorway for renewable energy," he said.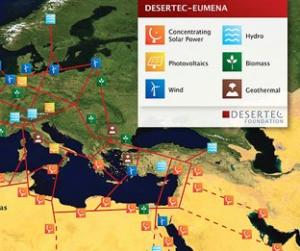 The promotional video above explains Desertec's plan. Although there are huge technical challenges to hooking up power grids over the vast distances between the Gulf and north Africa, let alone further to Europe, Adnan Amin continued, "I think they would be in a position in 15 years to be able to export substantial amounts," adding that people backing the policy in Saudi Arabia saw the prospect of selling power abroad as a "serious business opportunity" that could offset the costs of deploying such large amounts of new generating infrastructure.