In today's world of chemical engineering, great opportunities for collaboration and innovation can arise by meeting scientists from other disciplines, by visiting new conferences, or becoming familiar with new areas of research. You may wonder exactly how these opportunities can come about, without having to undertake rigorous graduate study in multiple fields, as I have. I saw one good example last month when I attended the Society of Environmental Toxicity and Environmental Chemistry's (SETAC) North American 33rd Annual Meeting in Long Beach, California.
At this meeting, Ed Begley, the actor widely known for his environmental views (known as a "green guy"), briefly spoke about the development of his own environmental ideas and positive trends in environmental consciousness in the U.S.
If you were a renewable or sustainable energy engineer in the audience during the talk, you would have recognized the suggestion that renewable energy sources are a solution to energy security challenges that also support improved air quality standards. I noted that some environmental scientists thought that the talk was removed from traditional SETAC speakers, but it was remarkably on target with the theme of the meeting, which was "Catching the Next Wave, Advancing Science through Innovation and Collaboration."
Collaboration
To me, the theme of the talk was to inspire a move beyond a classic clash between traditional energy products-processes and environmentalists. Maybe as a chemical engineer you've experienced such a clash with an environmental issue. The reality, however, is that environment problems utilize engineers and scientists to innovate new solutions - and we all know that chemical engineers are good at addressing challenges!
Whether we agree on how stewardship is put into practice, the fact of the matter is that many engineering and science fields bridge gaps that exist between neoclassic production philosophies and fields that are concerned with maximizing the ability and capacity of life to exist unconstrained. What has become increasingly clear to me is that scientific fields that work in the spaces of outcomes resultant of human expansion use different terms to describe and promote mankind's capacity to exist. So maybe we need to be more humble in our respective fields and recognize how all these professions are related.
Industrial change vs personal change
Ed Begely took a look at how he addresses environmental needs in his own life and then turned to the bigger picture. On a personal level, much of Ed's talk cited a central theme of living within a set of bounds. By being fiscally responsible, Ed was able to save money that allowed him to purchase a wind-powered generator that now contributes to his personal wealth. For more about Ed's personal thoughts and philosophies, check out his book. After taking a sustainable engineering class at the Colorado School of Mines, I understand how my various personal "footprints" can be viewed from a global perspective and why it is important to understand concepts such as carrying capacity. To learn more about your personal footprints on the environment, check out this link.
Personal footprint aside, it is well known that industrial practice can contribute to larger environmental challenges on a scales that obliterates an individual's impact. For example, the BP Deep Horizon accident in one estimate released 4.9 million barrels of oil, suggesting that over 1 million barrels are still missing. Using analysis from the US Department of Energy (DOE) and the Intergovernmental Panel on Climate Change (IPCC), it is estimated that the average American uses 2.8 gallons of oil per day (see this article in Scientific American). With this data, the impact of this industrial event can be related to the daily oil use of over 73 million Americans. This calculus still does not account for the overall environmental impact, which it does not appear anyone will even be able to estimate anytime soon and has been overshadowed by the process of enacting criminal fines (see this article in the New York Times). When was the last time you received credit on a chemical engineering homework or test for not having an answer?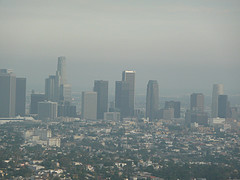 So, living within one's bounds isn't the entire answer. Bigger answers call on entire industries, engineers and public policy to drive changes. Begley cited how air standards in California were improved via fuel-emissions standards that required the implementation of new transportation technologies. He also tipped his hat to both the progress that's been made and to those who are behind much of that change. Among those responsible are the environmentally conscious, which does include chemical engineers.
Conclusions
One of my favorite examples of productive, holistic collaboration is the Grand Policy Experiment, which I recommend you look into! There is great opportunity to work collaboratively towards innovation that address complex environmental topics and allows for closing gaps among "siloed" disciplines. By going the extra mile to seek out and create new opportunities, more widely inclusive benefits may include not only those to your pocket book, but to our society as a whole. Chemical engineering and environmental engineer-scientist skills overlap in many ways.
To further the discussion I ask: How do your personal-professional behaviors and outcomes as a chemical engineer affect how we view dichotomies such as an energy-environment debate? And, how can you positively promote professional collaboration to innovate solutions and new opportunities? Please leave your comments below.