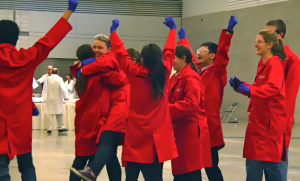 This year's Chem-E-Car competitors were challenged with a running distance of 21m and a load of 300mg. Cornell's team and their car, Zapdos, took home the top prize in the 2012 Chem-E-Car Competition with a perfect score of 0.0 m, beating 2011 champion University of Puerto Rico. See results and placement of all teams.
Cornell came to the nationals having won second place in the Northeast regional competition. The team was led by Jennifer Brenner and advised by Jeffery Varner.
Check out the video in the panel at right to learn more about AIChE's Chem-E-Car Competition and to see footage of various teams and Chem-E-Cars. You'll also hear from AIChE 2012 President David Rosenthal and 2011 President Maria Burka as they discuss the competition, the diversity of the chemical engineering profession, and announce the 2012 winner.