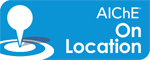 Before delivering the 64th Institute Lecture, Frank Bates sat down with ChEnected to discuss his talk titled "Multiblock Polymers: Panacea or Pandora's Box?"
Frank Bates is Regents Professor and department head of the Department of Chemical Engineering and Materials Science at the University of Minnesota.
Check out the video at right to hear what he has to say about polymers and the opportunities they present for creating new materials.