Despite Hurricane Sandy's efforts, the Women's Initiatives Committee Luncheon went on as scheduled on Monday, October 29 at the 2012 AIChE Annual Meeting at Sonoma, a restaurant a few steps away from the Convention Center. The Women's Initiatives Committee (WIC) mission is to "lead in promoting the entry, development, and full participation of women in the Institute and the profession." The Annual WIC luncheons showcase an accomplished woman in the chemical engineering field as the keynote speaker as well as an awards ceremony for the Mentorship Excellence Award and Travel Grant awards for students. Julie Liu, the WIC past chair, kicked off the session by introducing this year's keynote speaker: Dr. Frances Arnold, a 2011 recipient of the Charles Stark Draper Prize and the Dick and Barbara Dickinson Professor of Chemical Engineering and Biochemistry at the California Institute of Technology.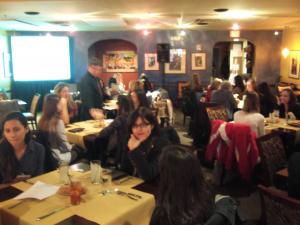 WIC Luncheon at the 2012 Annual Meeting
Dr. Frances Arnold unstopped by hurricane
Despite complications due to Hurricane Sandy, Dr. Arnold delivered her talk via web meeting. She spoke about her background as a native of the Pittsburgh area and her undergraduate degree in mechanical and aerospace engineering and her interest in biotech that lead her to her PhD in chemical engineering. Since the biotech boom that began in the 80s, Dr. Arnold has been fascinated by the possibilities of DNA mixing and reprogramming - a sort of molecular breeding which could lead to microorganisms being the "chemical factories of the future." Dr. Arnold summed up her experience in chemical engineering quite elegantly: "Chemical engineering, for me, has been a wonderful place to play." She also spoke to the group about a trip that she and her family took while she was on sabbatical. She, her husband, and their three sons took a year and traveled around the world visiting many places including Africa, Australia, and England. The trip gave her the opportunity to give her undivided attention to her children for an entire year and she highlighted the endless curiosity of children and their ability to see things that we, as adults, have forgotten how to see. She observed that the "love of family and children" was present in every culture they explored and shared numerous fascinating photos of their journey. See her fascinating talk at the TEDxUSC 2012 above.
This year's award winners
WIC provides several awards each year to exceptional women in the chemical engineering field, presented at the luncheon by Chair Elizabeth Lipke. This year's Mentorship Excellence Award went to Surita Bhatia of the University of Massachusetts, Stony Brook University and Brookhaven National Laboratory. This year's Travel Grant winners were: Julie Albert - North Carolina State University Heather Emady - Purdue University Xue Gao - University of California, Los Angeles Yeji Kim - Purdue University Jennifer Knipe - University of Texas at Austin Courtney Ober - Auburn University Amy Rohan - Georgia Institute of Technology Sheng-Chuan Su - Purdue University