Last week, I contended that we are in the early stages of a new Golden Age of Chemical Engineering, listing
five substantial reasons
. Let's look at the first one:
Manufacturing's shift to emphasize processes and properties
- that is, it's shifting toward aspects of manufacturing where ChEs are leaders.
Does "ChE" mean "manufacturing" to your neighbor?
In a 4/28/2012 article in the Wall Street Journal, Gregory Zuckerman wrote about the "resurgence in the U.S. manufacturing sector." He focuses on a March report from Merrill-Lynch to argue that "the U.S. economy is in the early stages of a long-term manufacturing renaissance." Thus, manufacturing is in the US and global spotlight these days, and chemical engineers have a spot at the front of the stage. That probably will come as a surprise to the general public, including Capitol Hill - and maybe to some of us. A lot of people don't even think of us at all when they think "manufacturing." Why not? After all, they know fuels and pharmaceuticals and polymers and microelectronics and cosmetics and soft drinks have to be manufactured.
Manufacturing isn't just machines and assembly lines
Maybe the biggest reason is that the public thinks of manufacturing as making things mechanically with an assembly line. Look up "manufacturing." Merriam-Webster starts with "1: to make into a product suitable for use," which is fine, but then goes to "2a: to make from raw materials by hand or by machinery." When I looked in Wikipedia, I saw "Manufacturing is the use of machines, tools and labor to produce goods for use or sale" (Wiki correction now submitted!). Happily, it did go on to include our industries as manufacturing categories. Don't get me wrong: A plasma etcher can be construed as a machine or a tool - but it sure doesn't process chips mechanically. It is a chemical processing device. Processing may be batch or it may be continuous. We may use fermenters, distillation, mixers, spray drying, heat exchangers, affinity chromatography, chemical vapor deposition, or membrane separations.
Products aren't just things: they have properties
Manufacturing is popularly associated with making things: cars, clothes, TVs, furniture, and so on. ChEs often make "stuff" instead, but even in the "things," properties have grown increasingly important to creating product value.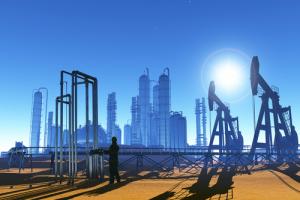 BASF aimed to tackle this issue with its slogan, "We don't make a lot of the products you buy. We make a lot of the products you buy better."(TM) For example, your favorite smartphone is full of chips that ChEs have made, viewed on a display that was created by chemical processing, and covered by special impact-resistant glass, such as Gorilla Glass (see more about Gorilla Glass in this article from Wired). We also make products for industry, such as catalysts, ion-exchange resins, and polymer membranes. But yes, we also make "products you buy," like gasoline, antifreeze, prescription drugs, paints, and nonwoven fabrics. These substances' chemical, biological, and physical properties are the heart of their value. One more trend is the way manufacturing is focusing more on combining processes and properties, as opposed to machining and mechanical assembly of forms. Consider "additive manufacturing," such as microelectronics manufacturing and 3-D printing. Material properties are central. Consider nanotechnology, where improved properties drive much of the work. It takes people from multiple disciplines to bring most of these products to completion. Still, the ChE skill set is more and more crucial to successful manufacturing.
And we're all in manufacturing(?!)...
I'll go further. Most chemical engineers are part of the manufacturing enterprise, whether we're working in industry or not, and whether we are doing specifically technical work or not. More about that in next week's post, describing how the arrival of regenerative medicine is being led by ChEs in hospitals and academia, people who don't come to mind when manufacturing is mentioned. Nevertheless, this field is the birth of a new area of ChE-style manufacturing: "Tissue manufacturing."