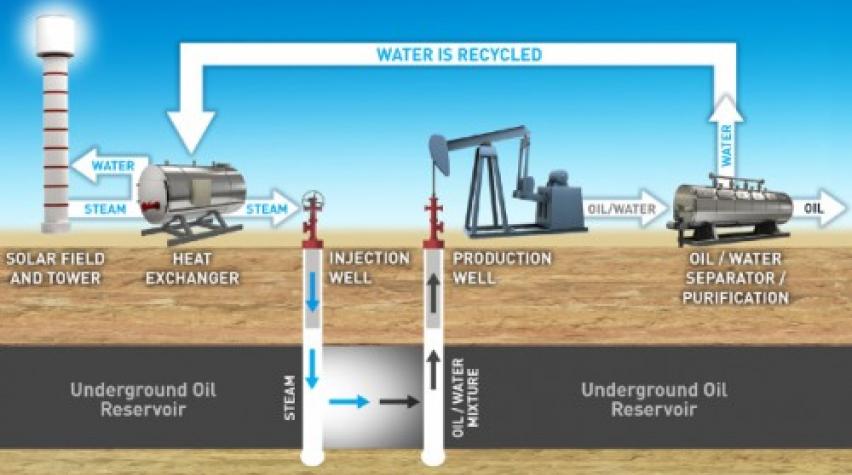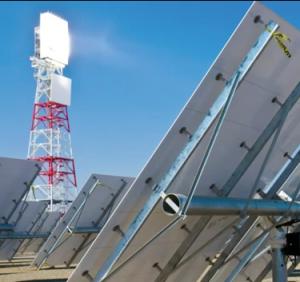 Chevron Corp. is considering using solar energy to produce the steam needed to coax heavy crude from an oilfield straddling Saudi Arabia and Kuwait, since standard oil recovery had pulled up only about 5 percent of the oil, leaving most of it underground. Thanks to years of TV, movies and self-promotion, the oil and the solar power industries are world's apart in the public imagination. Swaggering cowboy-boot-wearing Texas oilmen are from Mars and Birkestocked solar developers are from Venus. A massive carbon footprint versus a more sensitive, delicate tread upon the earth's surface. But in the case of Chevron's potential project, the two industries may not be so distant after all. For Chevron, a leader in heavy oil production, the world's growing appetite for energy renders "either-ors" temporarily problematic, and enhanced oil recovery is a new niche where the rival technologies can work together. Picture Dallas's J.R. Ewing played by Jeff Bridges, with a dazed, loopy grin and wearing a Hawaiian shirt, armadillo-skin boots pedaling the metal on a Tesla Roadster. The Dude apotheosis of American energy.
Test facility in California
Up until now, Chevron has typically used natural gas-powered generators to produce steam, which sends a liquid or gas (in Chevron's case, steam) into an oil reservoir, lowering the oil's viscosity, and allowing more oil to be pumped. Chevron has done this for more than 30 years at Duri, Indonesia and 50 years at Kern River, CA, as this video explains:

For Saudi Arabia and Kuwait, natural gas is either too expensive or nonexistent. So, as far as Chevron is concerned, solar is a smart use of renewable energy. But before taking the technology over seas, they launched a solar-enhanced-oil-recovery demonstration in Coalinga, CA, which like many of the world's oil fields, had suffered a long decline. Peak production occurred in 1912 - and 100 years on, with all the easy oil gone, you have to use energy to extract what's left. This is why Chevron originally developed their solar solution, which, until natural gas prices crashed this year, was an economical alternative in the US. This video explains Chevron's new solar process:

Developed with BrightSource Energy, a concentrated solar energy (CSP) pioneer, the joint project in Coalinga is relatively small-scale. The site sits on 100 acres and uses 3,822 heliostat focused on a boiler sitting on top of a 327-foot-tall solar tower. Even at this scale, Chevron has judged the demonstration a success and transferable to the larger Saudi project.
Trying to boost production by 600,000 barrels a day
In Saudi Arabia and Kuwait, solar power would be used in conjunction with burning natural gas for the
so-called steam-flood development at the Wafra field in the Neutral Zone. Chevron wants to free up much-needed natural gas, where Kuwait buys the fuel in liquid form at high international prices and Saudi Arabia burns crude in its power stations because they don't have sufficient local supply of gas to generate electricity. Chevron is trying to boost production from the Wafra field by as much as 600,000 barrels a day. Once the new method for injecting steam is applied on a large scale, the Wafra field will become the world's largest project for oil recovery with steam injection.
Every barrel of oil would need about 5 barrels of steam, according to Yasser Dib, regional vice president at BrightSource Energy. The reservoir holds an estimated 9 billion barrels of net oil in place. Just another 1 percent recovery from this reservoir alone would add more than 100 million barrels to Wafra's reserves.
Images: Solar tower, BrightSource; oil recovery facility, Chevron