Over ten years ago, concerned about increasing power plant emissions, an insurgent band of environmental groups led by the Laura Miller, then the mayor of Dallas, Texas, eventually stopped a huge Texas utility from constructing 11 coal-fired power plants across the state. How did Miller follow up on her stunning David vs Goliath success? Today, she's trying to build another coal-fired power plant in Texas, but she's quick to reassure skeptics that this plant is different, "the cleanest coal plant in the world." No longer the mayor of Dallas, Miller is the director of Texas projects for Summit Power, a Seattle-based energy firm, and inured to protracted political fights, she has already spent three years trying to get the $3 billion power plant built. Capable of capturing 90 percent of carbon dioxide emissions, the new plant uses a CCS technology demonstrated in large-scale field experiments at the Rocky Mountain Test Facility near Hanna, Wyoming, by the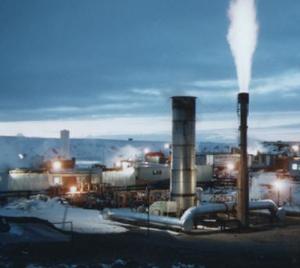 Lawrence Livermore National Laboratory. While coal has long been a rallying cry for Texas activists, Miller has found tacit support from her old allies at the Natural Resources Defense Council and the Environmental Defense Fund. Why the turnaround? This time they all agree that building this plant could help move the global power industry toward low-carbon electricity made from coal. Since the average U.S. plant emits 2,249 pounds of CO2 for every megawatt hour (MWh) of electricity it generates, according to the EPA, capturing and storing CO2 could reduce those emissions dramatically. Miller's new 400-megawatt power plant would eliminate most pollutants and capture 90 percent of its CO2 emissions, amounting to 200 pounds per MWh. This makes the planned Texas plant far more climate-friendly than even the best combined-cycle natural-gas plants, which put out 900 pounds per MWh. "With 300 years of coal in the ground, the US needs to use it in a clean way," Miller told Yale Environment 360. "This will raise the bar on all the other coal plants being built. It's just a matter of spending the extra money to make something that was once dirty become clean." And the effort to get this new plant built comes at a pivotal moment in the history of coal-fired power.
US coal will feed Asian coal-fired plants
Between rock bottom natural gas prices and new EPA regulations, the US power industry is abandoning coal. Just this January, FirstEnergy Corp announced that six of its coal-fired plants would be retired in Ohio, Pennsylvania, and Maryland. Once the plants are officially retired, nearly all power will come from low emissions sources - primarily natural gas. Three other large US energy companies have also announced plant retirements, according to Energy Digital. Around the US, a domino effect will cause about 70 more coal-fired power plants to be shut down. Within 20 years, US demand for coal will decrease from today's 44 percent of US power production to as low as 22 percent. But like oil, coal is a global commodity, and although coal use in the US is withering, it's rapidly increasing in other parts of the world. According to the Associated Press, coal exports have been on a strong upward trend, topping 107 million tons last year. Significantly, exports to South Korea grew by 80 percent, while Japan's grew 110 percent as the country desperately searched for alternatives after a nationwide, post Fukushima, nuclear shutdown. The following chart quickly tells the story.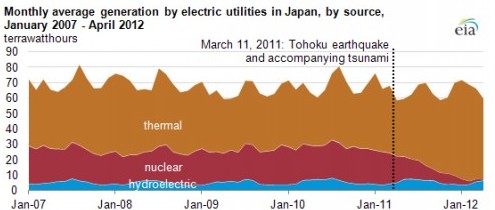 Arch Coal, the second largest US coal producer, predicts that exports could more than double to 245 million tons over the next few years. That means adding and expanding coal ports on the West and Gulf coasts. So, the world will still burn the dirty coal - a lot of it - but now you also have to factor in the pollution from transporting it abroad.
A new business model for coal
The plant's technologies are established and tested. "There's no breakthrough here," Eric Redman, President of Summit Power, told Yale Environment 360. Coal can be "gasified" using a process that strips it of pollutants including sulfur and mercury and separates almost all of the CO2, producing a low-carbon synthetic gas, or syngas, which is then burned to make electricity. Additional revenue will come from compressing the remaining CO2 into a semi-liquid and selling it for enhanced oil recovery (EOR) in the oil-rich Permian Basin, where the project is conveniently located just a mile from a 3,000-mile network of pipelines dedicated to CO2. After selling electricity, although only about half of the plant's 400MW capacity will end up as power flowing to the grid. The rest will be used to power the project's other profitable operation, where urea fertilizer will be produced from any syngas not burned for power.
Still waiting for financing
But to see the real impact of this plant you have look overseas: China, and its vast reserves of coal. "If no other country in the world existed other than China, it would warrant the development of CCS [carbon capture and storage]," says David Hawkins, a Miller ally and director of climate programs at NRDC. Despite the new business model, the plant isn't fully financed yet and its future remains uncertain. About $700 million more equity and $300 million debt will be needed to complete the project. Most of that is now lined up, Redman says, but the company is still looking for a lead equity investor. And that leaves the future of coal uncertain, with hundreds of future conventional cola-fired plants in China, India, Japan and Korea awaiting delivery of unused US coal. Click to read the entire Yale Environment 360 article.
Images: US test facility,

llnlphotos

; coal-fired power plant, Analogue Kid; Japanese energy use graph,

EIA