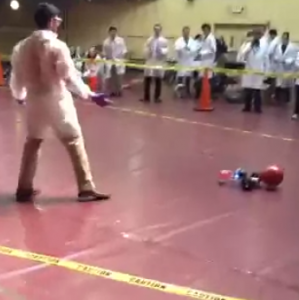 Recently, Stevens Institute of Technology in Hoboken, NJ, hosted AIChE's Mid-Atlantic Student Conference. Among the activities was the regional ChemE Car competition, in which 15 colleges participated. The cars, which were all propelled by chemical reactions, were required to travel 60 feet. Below are clips of some of the competitors. A special thanks to Loraine Kasprzak for the video footage! Finalists from regional competitions like this one will meet at the Annual Meeting in Pittsburgh for the 2012 ChemE Car Competition to determine this year's winner. You can learn more about last year's competition and winners here.
If you'd like to read more about the competition and other activities that took place at the Mid-Atlantic Student Conference,
check out this article
. For complete ChemE Car Competition details and rules,
see this link.