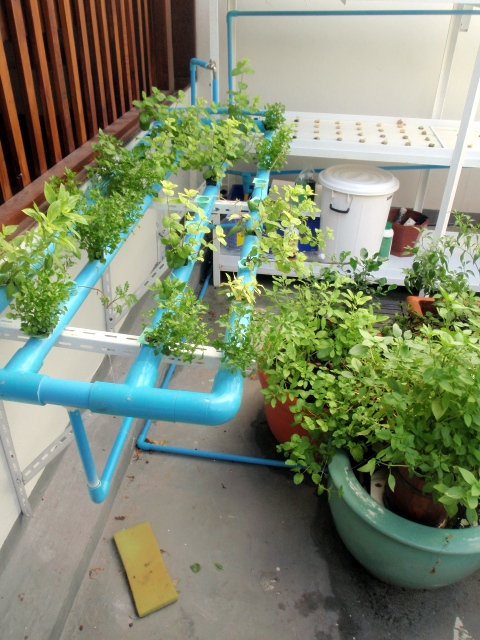 The hotel I am staying at in Thailand started a hydroponic garden, turning a previously unused area into productive one. While being "green" is among their objectives, this project is also a real measure of their operational philosophy of supplying quality products in a natural way. While it is not fulfilling all of the guests' needs, there is a near continuous supply of lettuce and greens that supplements the hotel's offering with a small supply of expected tomatoes. The hotel also grows most of the herbs used for spa treatments on the property.
The biggest argument against hydroponics, vertical, or other non-traditional urban farming techniques is that they require significant amounts of capital expense and energy input for operation. Instead of deriving nutrients from the soil or sun, artificial nutrients have to be added to water which then has to be pumped and filtered and, with the exception of vertical farms with an excellent exposure, artificial lights have to be powered.
These costs can be offset with reduced transportation costs of the final product when produced in an urban core. But wouldn't it be even better if analyzed with a material and energy balance sheet? What if, like a master chemical engineer laying out a new complex, streams and processes were interwoven, maximizing production while minimizing energy or material inputs? Take a waste stream from one process and use it as a raw material for another. And do it all in the same building. Engineers and designers can mimic and harness symbiotic relationships found in nature's web, recycling or transferring energy until every last joule has been used.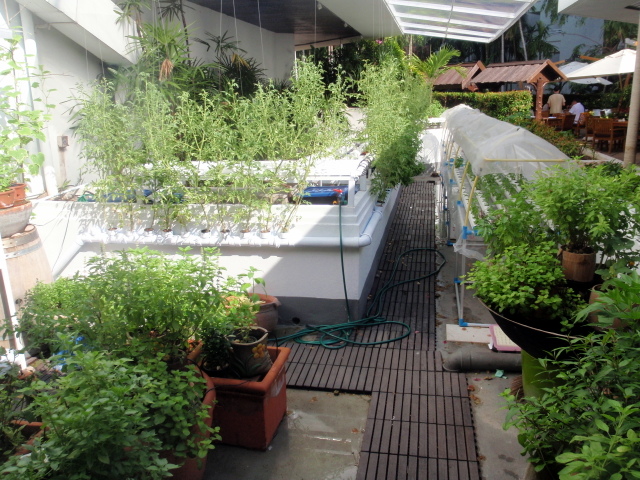 .
The goal of zero waste, zero energy
There are places in the real world where this concept is being tested - one of them is The Plant in Chicago's Back of the Yards. Working from inside a nearly abandoned meat packing plant, John Edel and his recruits have been retrofitting the building as a farming and socioeconomic ecosystem. The building came with excellent bones, industrial food grade construction, utilities, and even an internal drainage system that is beneficial to agricultural activities.
The Plant is in the early phases with quite a bit of work to be done refitting the building and installing new equipment. There is an operational hydroponic farm producing kale and an indoor mushroom farm. Co-existing in this arrangement is an aquaculture system - farmed tilapia. Water and fish waste (specifically nitrates and ammonia) from the fish tanks are sent through the kale "fields," where the nutrients feed the kale and the water is cleaned for return to the fish habitat.
As rehab of the building progresses, more systems are planned to be woven into the web. A brewery will be added, pulling water from the system and producing spent grain for nourishment of the fish and mushrooms in addition to beverages for imbibers. A kombucha (a tea drink fermented with yeast and bacteria) process will be added, drawing on the oxygen from the greens for its fermentation process and delivering carbon dioxide to boost productivity of the greens. Once fully utilized, any remaining biomass will be added to organic waste from other outside sources, such as restaurants and food packagers, and fed into an anaerobic digester for the production of biogas for power and heating of the building.
The goal is to be a zero-waste, zero-energy facility producing vegetables, fish, beer, and tea in an underserved area. There are also spaces planned for a community kitchen, commercial space, educational, and research spaces. John is eliminating waste through focus on closing the water, carbon, and energy cycles for more efficient production but also by revitalizing significant resources, such as his facility's huge building, that had been written off as unusable.
This is not John's first sustainable project. In 2009, while most of the country was fighting through the still-falling economy, he purchased a burnt out industrial building and slowly built it (with mostly reclaimed materials) into the Chicago Sustainable Manufacturing Center. Many of the achievements of The Plant and its nonprofit educational arm are accomplished through the hard work of many volunteers - whether swinging a sledgehammer, donating materials, or money. If you would like to participate in this unique urban experiment, schedule a tour, see the video of how the whole system works, or get more information be sure to check out their website. If you'd like to see more of what they're up to, check out their Flickr photostream here.
Images: Hydroponic farming, Robert Szczesniak; facility rehabilitation and view of plant beds from above, The Plant