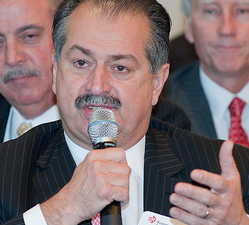 Becoming the latest company to take advantage of the shale boom's flat-lining natural gas prices, Dow Chemical's Andrew N. Liveris, Chairman and CEO, recently announced the company plans to build a new ethylene production plant in Freeport, Texas. Synchronistic markets backed him up, with natural gas prices reaching 10-year lows because of storage capacity concerns. But, then again, in the global energy market, no good deed goes untested.
Dow's tectonic strategy shift

"For the first time in over a decade, US natural gas prices are affordable, attracting new investments and putting us on the threshold of an American manufacturing resurgence," said Liveris, who, last year, began to seed US and Australian universities with money to boost chemical engineering research and enrollment.

The current trend of cheap, plentiful gas has been a gift to Dow, which already uses the energy equivalent of 850,000 barrels of oil per day as a chemicals and plastics feedstock. That figure will jump when the new Texas plant starts to convert ethane, which is used in plastics like water bottles and vinyl.
This is a relatively sudden and tectonic shift after years of overseas expansion in cheap-energy countries like Saudi Arabia (where last year Dow announced the Sadara chemical complex joint venture with Saudi Aramco).
New exports new jobs
Liveris knows that Dow's isn't the only industry responding to low prices and remains very aware of the long-term risk to his investment if the advantage of cheap gas disappears. Recently he voiced his major concern: US companies that want to export domestic LNG. "We're all for exporting natural gas," he said. "We just want to see it exported in solid form instead of liquid." (CNN video interview)
As part of his strategy to diversify out of commodity chemicals, Liveris wants to export products made from natural gas, like Dow's new solar shingle, a solar panel integrated into regular roofing shingles. Watch a news report here:
This new product has already been installed on 3,000 homes in Colorado and is currently being rolled out in Texas. Liveris says exports like the solar shingle would generate eight times more value for the U.S. economy than just exporting the LNG alone.
According to Forbes, Liveris warned: "If we allow the world gas price to come to this country by exporting gas then it will destroy the benefits of plentiful cheap gas." For example, LNG delivered to Japan nets $15 per thousand cubic feet, versus a current U.S. price of $2.25. But asking for that much government protectionism would create a country-wide political paroxysm. I won't use the term "firestorm," because in a story about natural gas and political hot air, it's an unnecessary accelerant.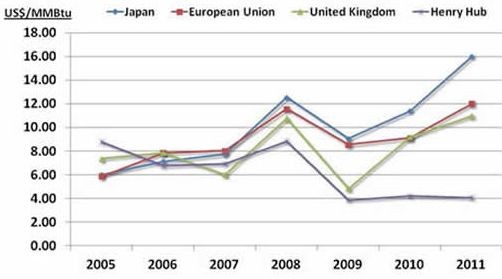 LNG rising
Like a bad horror movie, Liveris's most primal competitive fear just returned. There will soon be global competition for US natural gas, becasuse Houston's Cheniere Energy has just received approval from the Federal Energy Regulatory Commission (FERC) for the first large-scale natural gas export facility in the US, clearing the way for construction of the Sabine Pass LNG export terminal in Cameron Parish, La. Once completed, the new facility will allow U.S. producers to send natural gas overseas to chase huge price imbalances.
While several other LNG export projects have also been proposed, the Financial Times noted, Cheniere has already found four customers: BG Group of the UK, Gas Natural Fenosa of Spain, Kogas of Korea and Gail of India, and plans to export a total of 16m tons of LNG per year.
Sabine Pass, originally built as an LNG import terminal, a sign of how quickly the natural gas future changed, will help to turn around the struggling company, which, as recently as December, had been placed on Standard & Poor's Creditwatch due to credit risk. Company shares, $4 in September, are now more than four times higher following FERC's approval.
Crowding Dow Chemical
Suddenly, horror movie cliches are multiplying like zombies surrounding and attacking an isolated farm house. Phillips 66, the refining arm of oil major ConocoPhillips that will become a stand-alone company after April 30, will shift its long-term capital spending to its Chevron Phillips Chemical production because of the weak outlook for fuel demand.
Phillips 66 will roughly double its 2012 capital expenditure budget for its chemical business to $500 million, while its spending on its refining business will grow from just under $1 billion, Greg Garland, a ConocoPhillips executive vice president who will head Phillips 66, said.
Shifting out of shale gas
And don't forget the nightmare shape-shifters ("Freddy, I know you're there!"). Many domestic drillers are idling rigs or switching them over to oil shale plays to take advantage of the record price disparity between gas and oil.

In late January, taking a drastic step to stem the natural gas glut, Oklahoma City-based Chesapeake Energy, the nation's second-largest producer, said it would slash gas drilling by nearly half. At the time, this was greeted with exuberance by traders and investors who had been waiting for a sign that producers were ready to make dramatic changes.
Other companies are following Chesapeake's example. The natural gas rig count dropped for the 13th time in 14 weeks to 624 (a drop of 23 rigs from the previous week). The number of gas-directed rigs is at their lowest level since April 19, 2002 and is down more than 33% from its 2011 peak of 936, reached during mid-October. The current natural gas rig count remains 61% below its all-time high of 1,606 reached in late summer 2008. In the year-ago period, there were 885 active natural gas rigs.