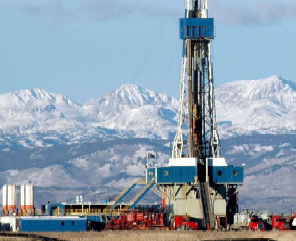 Although definitive comparisons are imprecise due to different reporting methods, the EIA now estimates that the United States surpassed Russia as the world's leading producer of dry natural gas in 2009, when Russian production dropped along with reduced demand from the 2008 economic downturn. According to a 2010 Bloomberg article, Russian output plunged 17 percent in the time.
Obviously, this isn't a static market, and Russia, which has the world's largest reserves (CIA) (Gazprom) and a quarter of Europe's market, had originally surpassed the U.S. in gas production in 2002, pumping 539 billion cm versus America's 536 billion. Then, later in 2010, Russian production rebounded somewhat, although the data indicates it remained about 2% lower than the U.S. that year.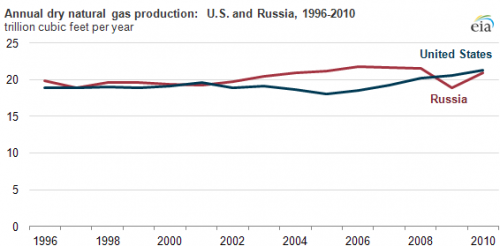 An import economy shifts
This trend indicates that Gazprom will not be able to break into the U.S. market as it had planned, Mikhail Korchemkin, Bloomberg's head of East European Gas Analysis, said at the time. The state-run Russian company had set a target to take as much as 10 percent of the U.S. market by 2020 through sales of liquefied natural gas.
"The surprising boost to U.S. shale gas output closed the world's biggest energy consumer to some imports..." Korchemkin said.
But the bigger story is the incredible run-up in US natural gas production since 2005. Production in the US rose 18% between 2005 and 2010, due to growth in shale gas, which was spurred by increased horizontal drilling (great interactive map) and fracking.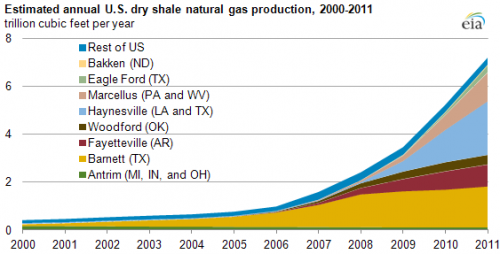 Other factors contributed to the gains: multi-well drilling from a single pad, rising natural gas production from oil plays, and improved drill-bit technology. Annual shale natural gas production in key shale plays grew from 1.6 Tcf to 7.2 Tcf between 2007 and 2011. Although total US natural gas reserves have been recently downgraded to 13.6 trillion cubic meters, from 23 trillion in earlier studies.
Photos: Natural gas rig, PD/BLM
Graphs: EIA