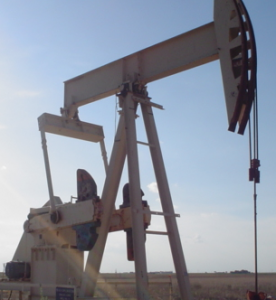 A new, possibly longterm, economic trend emerged during 2011. Dow's Andrew Liveris, GE's Jeff Imelt, and Exxon's Rex Tillitson all think the energy landscape has permanently changed, with profound effects on the US economy.
The hard news: the US began exporting more petroleum products than it imported for the first time since 1949. The key word is "products;" and the underlying concept is the yin/yang of "net exports," which have begun to take off.
Crude oil, the global jug wine
The overall picture is complicated, like a long wine list in a dimly lit restaurant. (Wine steward, please help!) While American refiners still imported large - although declining - amounts of crude (global jug wine) according to the EIA's Petroleum Supply Monthly February report, increases in foreign purchases of exported US refinery products (upscale, bottled varietals) contributed to the United States' new status as a net "petroleum products exporter."
This coincides with larger trends: a rising global population and a demographic shift toward city living for the first time in world history, all accompanied by growing affluence. Aspirational culture is spreading. India isn't manufacturing the Tata Nano for nothing. The new middle class needs an affordable runabout to impulsively pick up that trendy imported goods.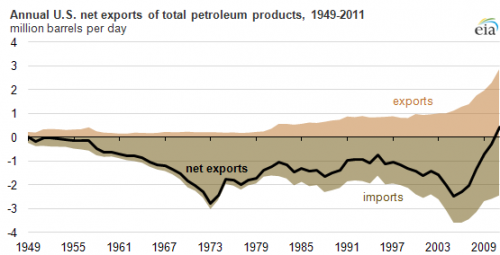 Doing the math
Net petroleum product exports (exports minus imports) averaged 0.44 million barrels per day (bbl/d) in 2011. Imports were at a nine-year low of 2.4 million bbl/d, and exports were at a record high of 2.9 million bbl/d.
Coinciding with rising job growth in the US oil patch, the gap between exports and imports accelerated from August through December, with total monthly exports topping 3 million bbl/day for the first time.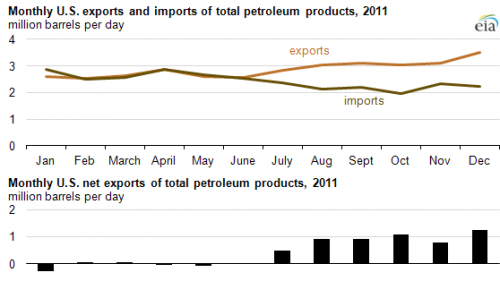 The Bakken formation is coming into play
With strong global demand, distillate exports, which includes diesel, had a higher profit margin for US refiners than gasoline. There is now strong evidence of the effect of increased North American oil production - particularly from Canada and from North Dakota's Bakken formation.
Overall, the US remained a net importer of crude oil, with some refined and sent overseas. These were valued second in US exports during 2011 at $111.1 billion, jumping up 60% from 2010. Last year, as the global economy continued to improve, vehicles (big ticket items like construction equipment) were the number-one US export at $132.5 billion.
Crude oil, however, was the biggest US import, valued at $331.6 billion, up 32% from 2010. Rising oil prices, rather than higher crude import volumes, however, were behind the increased value. (View the full CL00 chart at Wikinvest.)
Photos: Pumpjack, Flcellguy; Gas prices, Naveka via Flickr.
Graphics: EIA