Join fellow AIChE members and share a great experience improving the natural environment in Houston, this year's Spring Meeting host city!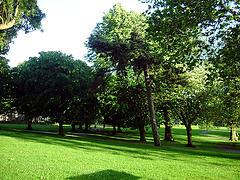 Project

: Harrisburg Sunset Trail Cleanup
Volunteers: No cap, estimated ~20 people.
Time: 11 am - 2 pm
Description: Join volunteers to eliminate litter along the Harrisburg Trail for hiking and biking. This beautification and cleanup effort is part of the KEEP HOUSTON BEAUTIFUL Initiative.
Cost: This event is free!
Meeting place and directions:
The project will begin at 11 am at Harrisburg Boulevard at Adams Street, at the northeast corner of Eastwood Park (map of meeting location) near the Bus Route 50 stop.
For carpoolers from the Convention Center: Meet at 10:40 am. The drive will take 10 minutes (map link with directions). A link for carpools will be sent to volunteers who need a ride once enough drivers sign up.
Consider taking a bus -- it is only a 20 minute ride! (map link with directions)
Walking to the project site is also a possibility -- but budget 50 minutes for it. (map link with directions)
Please wear comfortable clothing that will allow you to walk and move freely. The average high temperature for Houston in April is 79? F.
To register for this event, please complete and submit the form To Register.
Questions? Contact Alessandra Carreon at alessandra.r.c@gmail.com